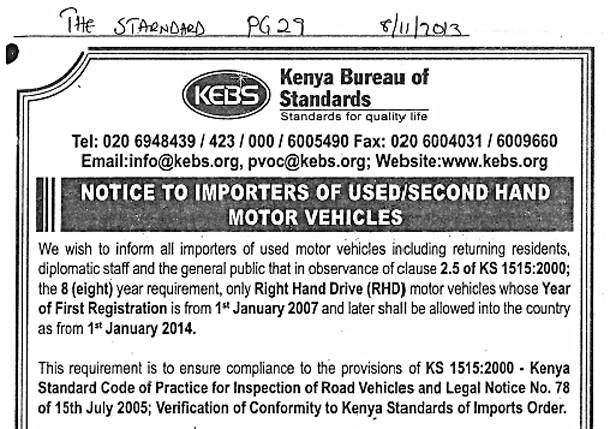 We would like to thank you for your continuous support in using Kenya Car Bazaar Ltd. as your preferred car importer and clearing agent.
We wish to inform you that in observance of clause 2.5 of KS 1515:2000; the 8 (eight) year requirement, only Right Hand Drive (RHD) motor vehicles whose Year of First Registration is from 1st January 2007 and later shall be allowed into Kenya as from 1st  January 2014.
This requirement is to ensure compliance to the provisions of KS 1515:2000 – Kenya standard code of practice for inspection of Road vehicles and Legal Notice No.78 of 15th July 2005 Verification of Conformity to Kenya Standards of Importers Order. All vehicles that are exported to Kenya shall also be accompanied by a Certificate of Roadworthiness issued by JEVIC, QISJ or any other KEBS appointed inspection bodies.
Find out more here: 2006 Car Importation Deadline
What Are Your Thoughts
Share with us what you think about this article