The administrator of the National Police Service Twitter page did not keep their cool on Thursday, after a complainant trolled traffic officers for the heavy traffic witnessed from the Jomo Kenyatta International Airport (JKIA) to Nairobi's Central Business District (CBD).
The complainant by the name Simon compared the hours taken from Nairobi to some foreign countries, to the hours taken from JKIA to Nairobi.
"It takes five hours from Dubai to Nairobi, four hours from Johannesburg to Nairobi and less than two hours from Kigali, Entebbe, Addis Ababa, Dar es Salaam, Mogadishu to Nairobi,  then it takes one four hours from JKIA to the CBD, simply because some idiotic NPS can't control traffic," Simon posted.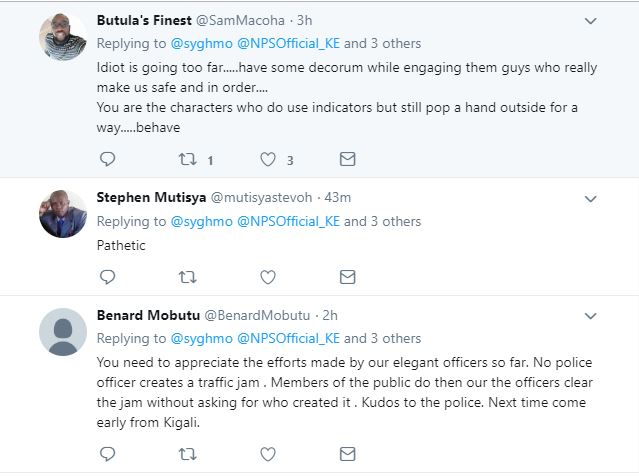 The administrator was quick with a hilarious response to the complainant.
"Venom detected, honestly speaking, we don't have any officer who wakes up every day just to celebrate you staying in traffic for unnecessary long," the post read.
Netizens were ready to jump to the defense of the traffic officers, citing that the complainant did not handle himself with decorum.
"You are the characters who do use indicators but still pop a hand outside for a way…behave," Simon Macohawarned.
"NPS keep your head up. You sort us out on Thika Road every day and we appreciate you. The ignorant simple minds blame you for the traffic mess on our roads," Miriti noted.
"I love the way you control Kiambu Road in the morning, Congratulations," another Twitter user weighed in.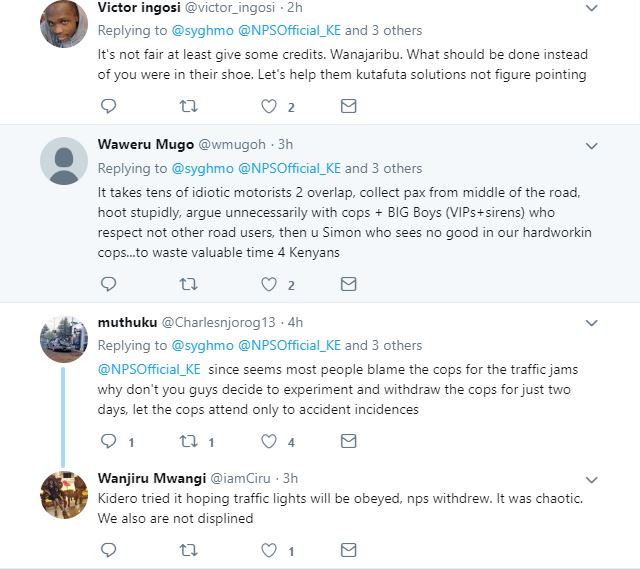 SOURCE: kenyans .co.ke
What Are Your Thoughts
Share with us what you think about this article