Amari Design Updates the Range Rover Sport Windsor Edition for 2011
Nov 3rd, 2011 | By
MrJob N. Okemwa
| Category:
Media Release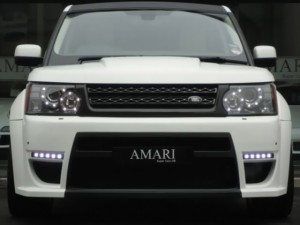 Amari Design previously released their 2010 Range Rover Sport Windsor Edition all the way back in February. The well-received aftermarket program has spurred the British tuning firm to update their premium edition of the SUV for the new 2011 model. Starting at Ksh 820,000, the company from Lancashire will outfit your 2011 Range Rover Sport with many interior and exterior features to give your SUV a stunning new look.
LED lights are affixed to the front bumper while the rear bumper was redesigned with a diffuser. The wheel arches have been widened while a new front grille, redesigned hood and a rear roof spoiler have all been added to the British car. It sits on a set of three-piece deep concave Amari Design forged wheels. The interior has been wrapped in Napa leather while carbon fiber pieces have been affixed to the door panels and throughout the Range Rover Sport.
The Windsor Edition will be available for both the diesel and gasoline engine, which is fitting because they have also finely-tuned the engine for slightly more power. The 2011 Range Rover Sport Windsor Edition by Amari Design is available now and runs the aforementioned price of Ksh 820,000.Depending on parts and engine tuning, the package can end up costing upwards of Ksh 2,193,363. It is available in both a widebody and regular version.
WINDSOR EDITION CUSTOMIZATION STAGES
STAGE 1
FRONT BUMPER (RRW001) £699
FRONT BUMPER FACIA (RRW002) £199
DRL'S (RRW003) £199
WIDE ARCH DOOR MOULDINGS (RRW004) £1,199
REAR BUMPER (RRW005) £699
REAR DIFFUSER (RRW006) £499
EXHAUST TIPS (RRW007) £249
ROOF SPOILER (RRW008) £699
TOTAL - £4,442 +VAT
STAGE 2 (includes all parts from stage 1)
SIDE VENTS (RRW016) £399
FRONT GRILL (RRW017) £549
TOTAL - £5,390 +VAT
STAGE 3 (includes all parts from stage 1 and 2)
RAISED BONNET (RRW018) £1,499
LEATHER RE-TRIM (RRW019) £1,499
STEERING WHEEL RE-TRIM (RRW020) £499
PIANO BLACK INTERIOR PANELS (RRW021) £499
TOTAL- £9386 +VAT
FITTING SERVICES
PAINTING AND FITTING £2,999
FITTING LEATHER INTERIOR £799
FITTING STEERING WHEEL £199
FITTING INTERIOR PANELS £199
AMARI DESIGN FORGED ALLOY WHEELS
AD1,AD2,AD3
AVAILABLE IN 3PC.MONOBLOCK AND 3PC DEEP CONCAVE
MONO BLOCK AND 3 PIECE MODULAR
18inc £3,900
19inc £4,100
20inc £4,300
22inc £4,500
3 PIECE DEEP CONCAVE
18inc £4,100
19inc £4,300
20inc £4,500
22inc £4,700
ADDITIONAL WHEEL EXTRA'S
DIFFERENT COLOUR LIP £60 PER WHEEL
DIFFERENT COLOUR FACE £60 PER WHEEL
PIN STRIPE £60 PER WHEEL
CARBON FACE £300 PER WHEEL
CARBON LIP £300 PER WHEEL
PLEASE CONTACT THE OFFICE FOR MORE INFORMATION ON THIS PRODUCT.
Price: £FROM £4,442

Related posts: