Car firms expand sales networks into the counties
Aug 2nd, 2011 | By
Angela
| Category:
Media Release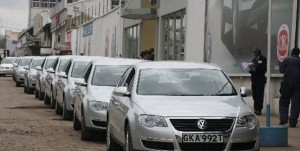 Auto dealers are expanding their sales networks to the counties as they prepare to cash in on increased demand from local governments and businesses.
CMC Motors, Toyota Kenya, and DT Dobie are revamping around the country and opening new dealerships with an eye on counties that are set to receive billions of shillings from the central government under the new Constitution.
This is set to increase competition among the dealers whose sales are slowly growing after a major slump between 2009 and 2010.
Toyota Kenya is set to launch two new dealerships in Kisumu and Meru in the next few weeks while DT Dobie is searching for new dealers in Meru, Nanyuki, Nyeri, and Kisii. DT Dobie had exited these towns years but is making a come-back buoyed by the rapid economic growth in these areas that is set to be fuelled by devolution.
CMC, which has a wide dealership in Kenya, is also upgrading its networks and is considering opening new ones next year. "We expect big sales from the counties that will have their own governments controlling significant budgets," said Bill Lay, the chief executive of CMC Motors that is upgrading its dealerships around the country.
"We will consider expanding our dealership network further next year depending on how the county governments pick up," he said.
Industry players say most sales have been made in Nairobi but the changing governance structures, coupled with rapid economic growth in rural areas is making a wide dealership network a key sales driver. Nairobi's status as the seat of power and hub of major investments has seen it account for majority of the country's commercial and domestic consumption, including vehicles.
The city expanded its earnings by Sh70 billion to Sh231.4 billion in 2009 from a low of Sh161.9 billion in 2005 even as the earnings rose only marginally in other regions during the same period.
But players expect this to change gradually on devolution of resources to the county governments.
"About three-quarters of our sales are made in Nairobi but this will change in the medium term," said Rita Kavashe, the managing director of General Motors East Africa which has the widest dealership in the country.
Kenya will soon have 47 counties that will share out 15 per cent of all national revenue. The counties will also raise revenues from property taxes, besides issuing debt instruments.
Local showrooms and spare parts, and service centre outlets are seen as appealing to local businesses that are seeking to cut the costs of buying vehicles.
"We see this enhancing sales and customer convenience by providing a full range of services in the emerging towns," said Kjeld Olsen, the director of sales and marketing at DT Dobie.
"We see increased demand from businesses in the towns," he said.
The rush for a larger share of local sales comes as the central government is cutting back its transport spend, including purchase of new vehicles.

Related posts: