CMC under suspect share trading probe
Sep 20th, 2011 | By
Angela
| Category:
Media Release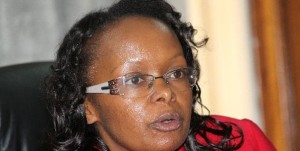 Motor dealer CMC sunk deeper into trouble on Monday after the capital markets regulator launched investigations into suspect trading of the company's shares at the Nairobi bourse.
The Capital Markets Authority (CMA) has sent letters to stockbrokers and investment banks asking for trading account information on CMC shareholders – setting the stage for possible sanctions against the culprits. (Read: Shareholder war puts CMC under regulator's radar)
The market regulator is seeking specific information from the stock traders, including copies of account opening forms with details of beneficial owners, client statement accounts and copies of trade instructions since the accounts were opened.
CMA opened the investigations in the wake of last week's intensive block trading of CMC shares at the Nairobi Stock Exchange (NSE).
The suspect trading began three days after the company announced the ouster of its chairman Peter Muthoka in a boardroom coup and his replacement with Joel Kibe who is the second largest shareholder.
CMC management also announced that it had uncovered gross misappropriation of company funds by past management and directors and the shipping out of millions of shillings into off-shore accounts.
On Monday last week, three days after Mr Muthoka's ouster, CMC traded 1.67 million shares at an average price of Sh13.55 or 7.54 per cent higher than the September 9 average of price of Sh12.60. (Read: CMC shares rise on news of changes in boardroom)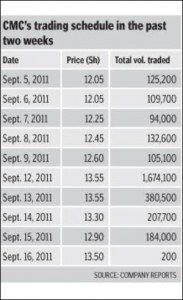 On Tuesday, the motor dealer sold 380,500 shares most of it in blocks that are suspected to have caught the regulator's eye.
The trend continued on Wednesday when 207,700 were traded, and on Thursday when 184,000 shares were traded before cooling off on Friday when the share was suspended after only 200 shares changed hands.
The investigations are expected to delve into possible share price manipulation by principal shareholders – who went public with their boardroom spat causing anxiety over the possible impact of the quarrel on the company's performance in the short term.
Share price
CMA will be searching for any leads to a possible propping up of the share price through cross-book transactions by lead shareholders during the period under investigation.
Such manipulation occurs when two or more shareholders agree to sell an agreed number of shares to another shareholder at a set price. This may be followed by a buy back of the same or different tranche of shares by the same or another shareholder at an agreed price. The aim is to influence price movement in a specific direction in the wake of material developments or spillage of critical information to the public.
"The investigations are meant to address all issues that have come to the fore with respect to the company," said Stella Kilonzo, chief executive officer, Capital Markets Authority Monday.
Ms Kilonzo said that the authority will communicate its findings to all parties concerned once the investigations are complete.
CMA documents, some of which are dated before the boardroom coup was made public, indicate that the market regulator had been monitoring the trading of CMC shares before the boardroom spat begun.
Last week, the market regulator said it had launched investigations into alleged illegal transfer of CMC funds to Jersey Island and improper procurement practices that led to a possible loss of nearly Sh2 billion in the past five years.
"If, indeed, we suspect that there are instances of fraud we will send a team to investigate and will not hesitate to take those involved to court," said Kung'u Gatabaki, the CMA chairman at a press briefing last week.
The CMA counter posted 'unusual activity' involving a number of block trades in the past few months drawing the regulator's attention.
The counter moved 5.6 million shares in May at an average price of Sh10.82 and 11.2 million shares in June at an average price of Sh11.73.
In July and August, 4.2 and 9.03 million shares changed hands at an average price of Sh10.50 and Sh12.50 a share respectively.
"They (CMA) may be looking to see if there was a takeover bid and who is behind the purchases," said an analyst with an investment bank who declined to be named.
A source said that the block trades and the accompanying rise in the share price indicate that some shareholders may have wanted to accumulate additional shares for a majority stake that would allow them to edge out rivals from the board.
Peter Muthoka, the motor dealer's largest shareholder, who was until last week its chairman, was replaced by Mr Kibe, the company's second largest shareholder.
Reports indicate that Mr Muthoka is CMC's top shareholder with about 132 million shares or 22.6 per cent of the motor dealer through Andy Forwarders - a logistics firm and CFC Stanbic Nominees.
He is followed by Mr Kibe with about 121 million shares or 20.7 per cent of the motor dealer while Kingsway Nominees and APA Insurance own 72.8 and 16.6 million shares or 12.4 and 2.8 per cent of the company respectively.
On Thursday last week, at the height of the boardroom war the motor company's chief executive Bill Lay and Mr Muthoka — who is also Andy Forwarders chairman and chief executive — exchanged unflattering allegations against each other forcing the regulator to intervene.
Mr Lay, reacting to publication of the boardroom coup details in the media, had claimed that Mr Muthoka was replaced as chairman "after it became evident that there was a significant conflict of interest with his role as chairman of CMC and his position as chairman and chief executive of Andy Freight Forwarders, the largest single service provider to CMC".
He further claimed that an audit sanctioned by the CMC board and carried out by management had revealed that the motor dealer excessively paid for Andy Forwarders' services by between Sh300 and 500 million per year.
Mr Muthoka has dismissed the allegations as falsehoods meant to destroy his character and has promised court action. (Read: Ousted CMC chairman takes shareholder war to the courts)
CMA stepped into the motor company's boardroom war and directed the protagonists to resolve their differences outside the media.
Resolved amicably
"There are a number of issues that go back some years but can be resolved amicably without getting exposure to others," said Mr Gatabaki, CMA's chairman during last week's press conference.
He said that a large part of the shareholder differences touched on corporate governance and conflicts of interest that could not be resolved through exchange of press statements.
Mr Gatabaki said that part of the problems at CMC were coming up because even though the individuals may have started the company many years ago as friends, other shareholders had come on board and started questioning how things have been done in the past.
Job Kihumba, chairman of the Centre for Corporate Governance and executive director at Standard Investment Bank said boardroom wars cannot be avoided and happen in many other companies without spilling over to the media.
"It does not mean that there are no quarrels in other listed firms and when I look at other Kenyan companies, it is no different," he said adding that CMA should be careful not to kill the entrepreneurial spirit by instituting very stringent corporate governance and rules that would discourage companies from listing at the NSE.