Fastest-selling luxury car
Apr 19th, 2012 | By
MrJob N. Okemwa
| Category:
General Information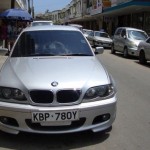 BMW has emerged as the fastest selling new luxury saloon car in Kenya after replacing rival Mercedes Benz in the first quarter as total sales of the high-end models fell 11.6 per cent.
Data from the Kenya Motor Industry Association (KMI) show that sales of the luxury cars fell to 53 units in the three months to March compared to 60 units the previous year.
Simba Colt, which sells BMW, however defied the slump to sell 16 units of the cars, up from 12 units in the same period, raising its market share to 30 per cent from 20 per cent.
This came as DT Dobie, the Mercedes dealer, sold 11 units of the cars, down from 37 units and lost market leadership for the first time.
DT Dobie also sells Jeep Grand Cherokee cars whose sales rose five times to 15 units but this failed to lift its market share which dropped from 66.6 per cent to 49 per cent on sluggish sales of its flagship Mercedes.
"Our Mercedes sales dropped because of inadequate supply, but the demand was actually higher," said Sameer Asghar, the general manager Mercedes division at DT Dobie.
He added that Kenya was one of the countries affected by inadequate supply of Mercedes cars to Africa by the franchise owner, Stuttgart-based Daimler AG.
The dealers are competing on brand reputation, price, and customer service as they intensify their activity in the local market. They have raised the stakes with new models as they seek to capture new demand from wealthy individuals and the private sector where directors account for most of the purchases.
BMW is set to launch the 2012 BMW 3 series, adding to its portfolio of the brand including BMW 5 series priced between Sh9.5 million to Sh20 million, X6 (Sh13 million), X5 (Sh12 million, and X1 (Sh5.5 million).
Simba Colt's sales of BMW have been rising in the past two years, overtaking CMC's sales of the Jaguar, Land Rover HSE, and Range Rover models last year and toppling Mercedes sales in the first quarter.
DT Dobie's Mercedes S class is one of the most expensive luxury cars, retailing at Sh25 million. The cheapest Mercedes, C-class, retails at Sh6 million.
DT Dobie has also announced plans to introduce American luxury car, Dodge, in the Kenyan market, a move that is expected to further raise competition.
CMC, whose luxury car sales in the first quarter rose to 11 units from eight units, recently introduced Range Rover Evoque priced from Sh11 million.
Its other brands include Range Rover Vogue retailing from ShSh16.5 million to Sh19.9 million and Range Rover Sport priced from Sh12.5 million to Sh17.3 million. The company's increased sales raised its market share to 20.7 per cent from 13.3 per cent.
The luxury saloon car market has suffered from the government's policy to ditch the high-end models in favour of fuel-efficient models such as Toyota and Volskwagen Passat.
The government accounted for about a third of total annual sales and its exit has seen dealers turn to companies and wealthy individuals with longer-term financing options to grow sales.

Related posts: