Fuel prices likely to rise
May 12th, 2011 | By
Angela
| Category:
General Information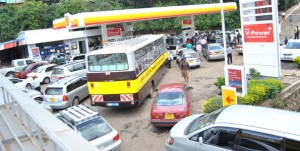 Oil marketer, KenolKobil has warned that fuel prices may rise for the second time in less than a month by $0.06 in May due to the ongoing crisis in Middle East and North Africa (MENA) region.In a statement, KenolKobil said international oil prices are on the rise and the emergency delivery ordered to cover for the recent shortage, will lead to the new price.
"With continued unrest in the MENA region, specifically Libya and Syria, international oil prices continued to rise in April 2011."It said Brent Crude Oil is currently trading at almost 112 dollars per barrel while West Texas Intermediate is posting about $100 dollars per barel.
The estimated jump will push prices to a new all time high of 1. 39 dollars for a litre of super petrol from the current 1.33 dollars, when the Energy Regulatory Commission (ERC) releases new price caps on May 14.
The Managing Director David Ohana said crude oil was trading at $120.70 per barrel in April, an increase of 8.15 dollars over the price in March.
With no let up to the turmoil in the Middle East and North Africa, Ohana said he does not expect pump prices to come down."There are already signs of other countries experiencing unrest such as Tunisia and Morocco which could spread to (oil producing) countries in the region which could in turn affect the supply of oil resulting in higher prices."
The Energy Regulatory Commission (ERC) last month attributed the rise to soaring international prices of crude oil and refined petroleum products during March as the price of crude rose by 8.54 percent from 103.60 dollars per barrel to 112 dollars per barrel.
The Ministry of Energy had invited bids in two batches to import about 55 million litres of super petrol but failed to receive takers for first tender.The second bid was won by Gulf Energy. This is likely to translate into a new fuel shortage in the next two-three weeks.
The government had called for a new tender to import emergency super petrol. The cargo, which will come in as a refined product, is expected in the country by May 23.The ERC is scheduled to release new price adjustments on May 14 that will cap the maximum pump price until the next review in June.
Article source: http://thecitizen.co.tz/business/14-international-business/10827-fuel-prices-likely-to-rise.html

Related posts: