Higher costs hit personal car sales.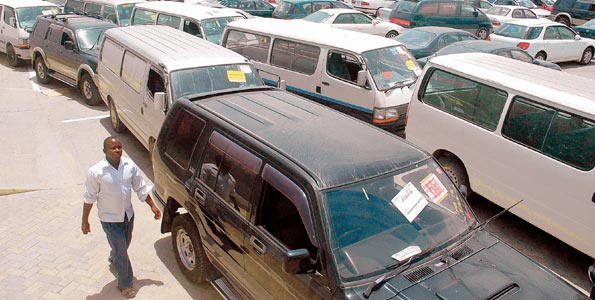 Registration of personal cars took a 27 per cent nose-dive in 2011 as higher cost of living and credit edged out the middle class from the luxury segment.
Data from the Kenya National Bureau of Statistics (KNBS) shows that the number of saloon and station wagon cars registered dropped to 42,225 from 53,703 in 2010.
During the year car prices went up owing to the depreciation of the shilling against hard currencies and the consequent rise in interest rates—as monetary policy responded to inflation and currency depreciation—discouraged uptake of asset loans which are usually used to finance vehicle purchases.
"The sales dropped towards the end of the year due to the exchange rate, which was a big contributor and also as a result of interest rates going up.
"Most clients were not willing to take up financing," said Frank Okemwa, business and development manager at Kenya Car Bazaar.
The price of a Toyota premio went up to Sh1.4 million from Sh870,000 at the beginning of the year as the shilling depreciated against the dollar to below the Sh100 mark.
Commercial banks raised their interest rates in line with a tight monetary stance taken by the Central Bank after inflation rose throughout the year to a high of 19.7 per cent in November. Asset finance cost rose to 24 per cent in December from a 14 per cent in May.
Cost cutting measures by the Government and corporate entities saw the number of high end vehicle sale drop.
The Cabinet last year suspended procurement of motor vehicles, as it faced demands for salary increments from public servants and in a bid to support initiatives to cut money supply.
"Sales of new luxury cars slowed down due to lack of orders from the Government," Sanjiv Shah, the CEO of Marshalls East Africa and formerly the general manager of Mercedes saloon cars at DT Dobie said in an earlier interview.
The Japan Tsunami also impacted the supply of second hand cars in the local market as most of the families whose wealth was affected opted to hold on to cars they would have otherwise disposed of. The floods destroyed cars and fear of radioactive waves saw cars meant for export declared unsafe hence cutting supply and fuelling price increases.
Kenyan's preference for station wagons over saloon cars continued with 31,199 station wagons registered against 11,026 saloons. The station wagons are more appropriate for commercial use and as taxis.
"They are usually used upcountry as taxis, especially the Toyota Probox," said Mr Okemwa. In disregard of traffic rules the taxis, carry over 12 people with some packed in the boot.
The Government directive to phase out the 14-seaters matatus, categorised as minibus by KNBS, saw the number registered slump to 451 from 3,600 the previous year. Consequently the number of newly registered buses rose by 31.2 per cent to 1,662.
Total number of new registrations went up to 205,841 from 196,449 for motor cycles and three wheelers. A government policy that waived import duty on motor cycles and their use for commercial purposes has seen their numbers increase year-by- year with 140,125 registered last year. Three wheelers commonly known as tuk-tuk have also been gaining popularity with their use in urban areas especially Mombasa, Nakuru and Kisumu.
Related posts: