First-Ever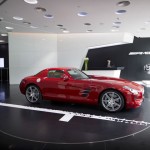 Mercedes-Benz has just opened the premier showroom dedicated solely to AMG models in the great city of Beijing, China. Mercedes has 195 AMG dealers spread across the world in 18 different countries, and this is the sole supplier of only AMG vehicles.
The 4,000sq-ft avant-garde style showroom recently played host to the unveiling of the new 2013 Mercedes-Benz G63 AMG. The grand-opening garnered plenty of attention in the Far East and abroad, as this location will serve as the template for future AMG-only stores.
"With this new AMG Performance Center in Beijing we hope to be able to attract and care for current and potential AMG customers. Here in Sanlitun Village North we enjoy a premium location, one where customers and all those interested can experience our brand claim "Driving Performance" intensely. The new store will act as an example for future "stand-alone" Performance Centers which are planned for other metropolis," said Ola Kallenius, chairman of the Board of Management of Mercedes-AMG GmbH.Check out the gallery below of Mercedes-Benz's first-ever standalone showroom for their AMG models in Beijing.
Related posts: