Nairobi in Sh400bn transport plan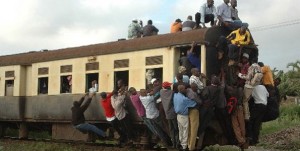 A Sh400 billion transport master plan to get Nairobi out of the current chaos and connect it with the satellite towns using a state-of-the-art mass transport system has been launched.
The plan – to be executed under the Vision 2030 development blueprint – involves construction of a 167 kilometre exclusive public road and rail transport linking the Kenyan capital with neighbouring Kikuyu, Thika, Ruiru, Athi River, Kitengela, Machakos, Limuru and Kajiado towns.
Its backers in the Ministry of Transport say the aim is not only to offer a world class transport system that can help raise Nairobi's status as the regional economic hub as envisioned in the Vision 2030 blueprint, but also disperse the city's 3.2 million population to the outlying towns to reduce the cost of living and cut pollution.
Rapid urbanisation and concentration of the population in central Nairobi have become the key drivers of the high cost of living in the city compared to other Kenyan towns.
"We want to have a smooth and effective system that will convince the public to leave their cars at home while continuing to enjoy the same level of comfort and convenience," said Dr Cyrus Njiru, the permanent secretary in the Ministry of Transport.
"The number of personal cars on our roads is growing rapidly with a growing middle class and we have to find a way of checking congestion in the city," Dr Njiru said.
The PS spoke on Monday after he received a Metropolitan Mass Rapid Transport System (MRTS) feasibility study report from Consult Engineering Services of India and its Kenyan partner APEC Limited.
The Sh409 billion project to be implemented by the government in collaboration with private investors will take 20 years to complete and will be managed by the Nairobi Metropolitan Transport Authority.
African Development Bank (AfDB) is financing a detailed feasibility study – complete with the design to the tune of Sh410 million. Work on Phase I of the plan covering Thika Road I, Juja Road, Jogoo Road, Ngong Road 1, Limuru Road and Mombasa Road comprising 50.18km of elevated rail lines and 40.42km of road begins in 2013 – all running on an elevated platform.
Mr Jeremiah Mutonga, the AfDB resident representative said talks are underway to get the backing of other financiers such as the World Bank.
"We are already participating in the Thika super highway project and we are glad to participate in this one as well," he said.
The proposal is to develop nine key railway transport corridors linking the Nairobi Railway Station (NRS)-Ruiru-Thika, NRS-Juja Road-Kangundo, NRS-Jomo Kenyatta Airport-Athi River, NRS-Langata Road-Karen and NRS-Upper Hill-Ngong.
Another artery will connect the NRS with Kabete and Kikuyu, NRS-Gigiri- Limuru and Outer Ring Roads in city's Eastland's area.
To deal with the envisaged heavy traffic, the Nairobi Railway Station area, including the yards, will be converted into a 24-storey central terminal where all lines would originate or terminate.
The road network will be serviced by an exclusive closed rapid bus system complete with special feeder services. The special bus routes will run alongside the normal highways except within the Central Business District (CBD) where it would run on an elevated platform.
An estimated 378 buses would be required to operate this exclusive route service by 2015 with fares of between Sh2 and Sh2.50 per passenger per kilometre.
The plan shows that the entire railway network will run on an elevated platform with a total of 76 stations and five maintenance depots to service passenger needs.
The second phase work involving the upgrade of Outer Ring Road, Thika II, Waiyaki Way, Ngong Road II, Thika Road III and Langata Road requires construction of 35.04 km and 41.44 km of rail and road network respectively.
The consultants said the project may require some highways covered by the special project to be upgraded to between 4 and 8 lane dual carriage ways with exclusive lanes for the buses.
"Demand for expansion and improvement of urban transport infrastructure facilities worldwide continues to overwhelm many countries, including our own region," said Transport minister Amos Kimunya.
Mr Kimunya said the existing transport system within Nairobi is estimated to cater for only 40 per cent of the demand.
"The rapid increase of private motor vehicles in Nairobi is a positive indicator of a growing middle class but our roads have not expanded as fast as this middle class has grown leading to heavy traffic congestion particularly during peak hours," he said.
Transport ministry data shows that Nairobi's major arteries such as Thika Road, Outering Road, Uhuru Highway, Haile Selassie Avenue, Mbagathi Way, Langata Road and Waiyaki Way are on average used by 80,000 vehicles per day — way above their design capacity.
The Nairobi City commuter train currently carries about 19,000 passengers a day far below the estimated demand level of 90,000 passengers.
"It is time for the public transport system within Nairobi to be re-organised into trunk and feeder type of operation to enable the provision of cost-effective services for the increasing commuter traffic," Mr Kimunya said.
Mr Michael Kamau, the permanent secretary in the Ministry of Roads said line ministries including Roads, Transport and Lands would consult on how to facilitate the project.
Related posts: