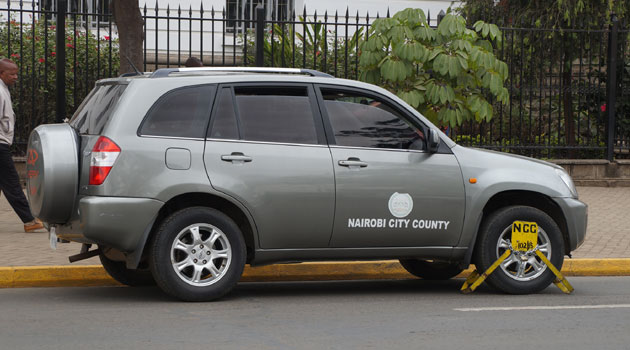 Speaking during a press conference on Thursday morning, County Secretary Robert Ayisi stated that no one is above the law and decisive action will be taken against anyone breaking the law regardless of their position or status.
His statement comes in the wake of the clamping of vehicles which had double parked in front of City Hall's VIP entrance which included one belonging to Governor Evans Kidero.
"The rule governing transport operations and parking is one. May it be a county vehicle or a county vehicle or a county employee vehicle found wrongfully parked, double parked or parked in the wrong place, clamping will be done. Even the Governor normally says if you find my driver parked in the wrong place, clamp him, give him a fine and he will be surcharged. This is not a joke," he stated.
Ayisi pointed out that the drivers of such vehicles will be surcharged for the cost of clamping as a lesson that no one can break the law and get away with it.
"Recently we were outside in the field and we found a county vehicle parked in the wrong place just at the VIP entrance, the Governor ordered it to be clamped. It was clamped, the driver was given a charge and he paid for it and I remember he came and gave me a receipt," he recounted.
He in the meantime issued a stern warning to matatu SACCOS presenting fake bank receipts emphasising that their certificates will be banned.
His statement comes in the wake of the impounding of more than 30 matatus and taxis after their SACCOS presented fake documents to show payment for seasonal parking.
He stressed that any matatu that flouts the law will also be banned and the certificates of their respective SACCOs cancelled.
"Once we get one or two or any number of matatus with fake seasonal tickets, we shall ban the whole SACCO. The City County Government will not tolerate corruption, impunity or SACCOS using unorthodox means to defraud the county government of the revenue we want to use to serve the residents," he said.
He explained that some slips from Co-operative Bank showed the SACCOS had made payments but when City Hall checked with the banks, no deposits had been made.
"I want to send a very clear warning to the SACCOS. We are cracking a very big whip. We are going to have a crackdown on all matatus and any matatus found, we shall cancel their licenses and we will ban them from operating within the Nairobi City County boundaries," he said.
JamboPay which collects revenue on behalf of the county welcomed the clamping of the vehicles saying it complemented their work.
City Hall introduced electronic payments in 2014 to reduce corruption.
Source : Capital