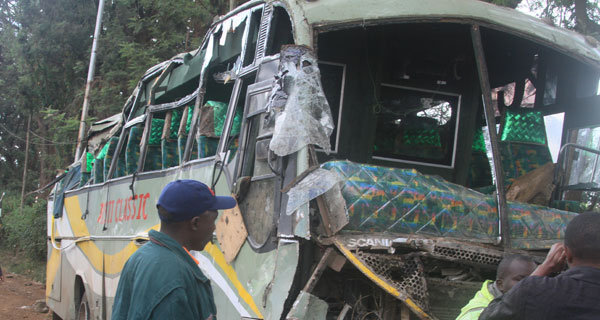 One person was Sunday at dawn killed and more than 50 wounded in an accident involving a bus in, Ngara, Nairobi.
The bus had originated Homabay Town through Kisii and was negotiating a corner along Kipande Road in Nairobi when it overturned few meters away from its intended destination, police and survivors.
The Kisii Classic Bus also hit three vehicles as it ploughed through a perimeter wall into a private residence and overturned.
Of the 50 who are in hospital, officials say 10 are in critical condition. The bus driver is said to have lost its control as he negotiated the corner.
He later escaped from the scene and police were making efforts to trace him.
Kenyatta National Hospital spokesman Simon Ithae said the ten had multiple injuries and had been admitted.
"We received 50 following the about 5 am accident but 10 of them were in critical condition but the situation is manageable," said Ithae.
A survivor, Elkana Ombati said the driver was alert but was unable to control it.
"He was not asleep. He was simply unable to control it because it was in high speed," said Ombati.
Traffic commandant Samuel Kimaru attributed the accident to speeding. He said preliminary findings had shown the driver rammed onto the stationary cars and later into the compound after he failed to control the bus.
"We are looking for the driver but the passengers say the bus was speeding at the time of the accident and he was unable to control it leading to the accident," said Kimaru.
The accident happened days after 12 people were killed in Umoja area in another one involving a bus and a train.
Police are under pressure to ensure they implement traffic rules and have been blamed for the increasing cases that have been reported in the country so far.
And to push the agenda, the Law Society of Kenya (LSK) has launched a legal storm against Kimaru, seeking to remove him from office due to the persistent tragic road accidents that have claimed about 3,000 lives between January and October.
In the suit filed at the Mombasa High Court on Thursday, LSK wants Kimaru declared unfit to hold office and wants him sacked from the police because lives are being lost on Kenyan roads under his watch.
The National Police Service Commission has also been listed as a respondent in the case in which Kimaru is being accused of abusing power and neglecting his statutory duties.
"Neglect of duty by the Traffic Commandant and the NPSC leads to loss of over 3,000 lives on the road annually. Over 1,725 people lost their lives on the road between January and July 16, 2013 alone," LSK claimed in its suit papers.