Motorists using the Thika Superhighway have raised concern over how Public Service Vehicles plying the route are potentially risking the lives of other road users.
In video footage captured by drivers on their dashboard cameras, the matatus are seen picking and dropping passengers in undesignated spots on the busy superhighway.
In the clips seen by Kenyans.co.ke, motorists narrowly avoid hitting the matatus who stop without notice along the highways instead of using the designated service lane.
Here is the video of the near-crashes on Thika Superhighway:
In one of the video recordings, a driver speeding on the acceleration lane is forced to make an emergency stop to avoid hitting a stationary matatu on the express lane.
The matatus have designated pick up and drop off areas on the service lanes of the superhighway. However, many matatu drivers disregard the special lanes to avoid traffic.
The spots which are known hotspots are at Muthaiga, All Sops, Survey and Garden City.
Motorists have expressed concern and called on the authorities to crack down on the notorious PSVs.
"Imagine finishing an innocent family by merging into a lane to avoid a matatu that suddenly stops and some don't even have brake lights. They don't even consider that someone behind them will have to change lanes, they just stop and it's your problem," Joshua Kariuki commented.
"Even if the matatu used hazard lights and was visible from a kilometre away. We can't accept matatus to stop in the middle of the road, where clearly there's no bus stop," Odinga Fanuel stated.
In a 2019 report, the National Transport Safety Authority (NTSA) noted that undesignated bus stops also contributed to accidents in the urban areas.
The Kenya National Highway Authority (KeNHA) has over the years redefined the highway to improve the safety of motorists and pedestrians with the establishment of footbridges.
With the completion of several footbridges, KeNHA is now expected to remove all safety bumps installed in the location to speed up traffic flow.
KeNHA Director General Peter Mundinia had earlier in the year promised to fast track their completion noting that delays in their construction were due to the importation of steel from China.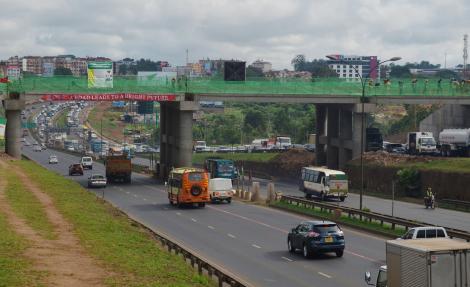 SOURCE: https://www.kenyans.co.ke/news/59564-motorists-raise-alarm-over-death-trap-thika-superhighway-video

What Are Your Thoughts
Share with us what you think about this article