A motorist, on Tuesday evening, November 3, evaded arrest from a traffic officer who was seen trying to deflate the back tire of the vehicle during a traffic snarl-up in Embakasi, Nairobi County.
A video seen by Kenyans.co.ke shows the officer following the car in an attempt to stop the driver from driving off.
Ultimately, the driver sped away as the officer was left chasing shadows. Netizens shared the video on social media lauding the efforts of the motorist to evade the officer as well as raising questions on the motive behind the traffic officer's attempt to deflate the motorist's tire.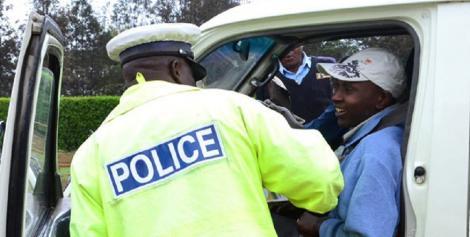 Speaking to Kenyans.co.ke, Nairobi Traffic Police Commander Joshua Omukata clarified that the motorist was at fault for overlapping and the traffic officer's attempt to arrest the perpetrator failed. He noted that the motorist had blocked all attempts for the traffic officer to detain the motorist.
"The officer had tried to signal the motorist to stop but he did not cooperate. That is why the officer resorted to deflating the tire in order to prevent the suspect from fleeing.
"He is still at large and we are in pursuit of him. In due time, he will be brought to book," said Omukata.
He also urged motorists to adhere to the traffic laws to enable good cooperation between residents and officers.
"The mandate of the traffic Officer is to ensure the smooth flow of traffic. I urge all of the motorists, let us work together because we shall not hesitate to arrest the lawbreakers if caught with an offense," he noted.
There have been numerous run-ins between motorists and police officers during previous encounters. An angry motorist on Sunday morning, May 10, went head to head against 4 police officers manning a roadblock to ensure adherence to the dusk-to-dawn curfew over Covid-19.
Footage of the dramatic incident showed a policewoman walking away from the scene as the irate motorist confronted her for damaging his vehicle. The officers simply left the scene, leaving him behind as he continued to protest against the damage on his vehicle.
In a video that surfaced online on Saturday, May 9, a group of traffic police officers had arrested a motorist for allegedly not wearing a mask while driving in public
The motorist, however, did not take the arrest lightly and vowed to expose one of the officers for not wearing a mask while arresting him for the same offense.
He whipped out his phone and recorded their confrontation, accusing the officers of double standards. The police officer, who was dealing with the suspect, tried to defend himself claiming that it was not the unmasked officer who was making the arrest.

SOURCE: https://www.kenyans.co.ke/news/58854-traffic-officer-attempts-deflate-fleeing-prado-video

What Are Your Thoughts
Share with us what you think about this article