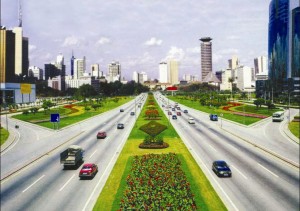 The Government requires Sh227 billion in order to decongest the city.
This is according to a feasibility study conducted by India-based Consulting Engineering Services (CES) in association with APEC Limited, Kenya, published Tuesday.
Part of the fund would be used to develop a mass-rapid transit system for the Nairobi Metropolitan Region, the study said.
The transit plan is aimed at reducing traffic by integrating a number of transport systems. It would further include a heavy rail transit, light rail transit bus and a bus rapid transit.
According to Transport Permanent Secretary Cyrus Njiru, the Nairobi city transport plan would include both a road and a rail-based system.
"Four major types of movements take place within the city. They include international, national, intra-regional and intra-city. All these movements share the same transport links and conflict with each other," Njiru said.
The study proposed that the road network should comprise of orbital and radical corridors.
"The central business district orbital should be upgraded to six to eight lanes with exclusive bus rapid system lanes, pedestrian footpaths, service roads, off streets parking facilities," the study said.
It further noted that a new intermediate orbital corridor in the middle of the city in between the CBD orbital and city orbital should be developed with a road reserve of 60 and100 metres.
REGIONAL BYPASS
The feasibility study also noted that the current railway system under construction be aligned along the proposed regional bypass grid.
Njiru said that the project would implemented in two phases. Phase one includes corridors on which construction can be initiated in the next 10 years. The remaining corridors could be taken up for implementation in phase two.
Already, the African Development Bank has pledged to fund the design plan.
He also said that the implementation would be conducted through Public Private Partnership and the government will float several infrastructure bonds in order to raise necessary funds.
However, Roads PS Michael Kamau urged all ministries to support the initiative.
"This would ensure that by 2013 we have the contractor on site and within a year construction would begin," Kamau said.
What Are Your Thoughts
Share with us what you think about this article