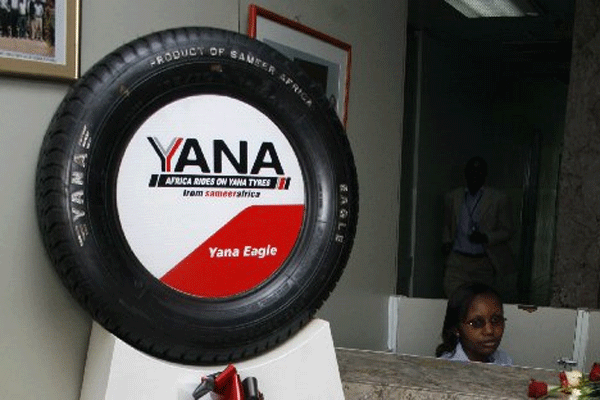 Sameer Africa is mulling the closure of its Nairobi tyre factory due to increased competition from cheaper car tyres from Asian markets, which has seen the firm record its second consecutive loss.
The tyre maker, owned 72.15 per cent by businessman Naushad Merali, said the planned shutdown of the Mombasa Road plant was because government has made no efforts to curb the dumping of cheaper and low quality tyres in the Kenyan market.
Sameer Africa made a loss of Sh15.6 million in the year ended December 2015, narrowing losses of Sh66.9 million posted a year earlier.
Tyre sales dipped by a tenth to Sh3.3 billion in what the company blamed on competition from an influx of cheaper tyres imported from markets such as China.
"In 2016, the efficacy and viability of local manufacturing will be a key agenda for the board of directors," Sameer said in a statement.
"The group will therefore explore alternative manufacturing and sourcing options globally."
The company said Kenya and other African markets are yet to implement initiatives such as countervailing and anti-dumping duties to counter influx of subsidised tyres and other products from the East.
Sameer has also blamed its woes on rampant under-invoicing by tyre importers across the region which makes the playing field uneven for local tyre manufacturers.
The high cost of power and a reduction in EAC Common External Tariff (CET) for truck and bus tyres to 10 per cent from 35 per cent –hence encouraging imports and exposing local manufactures– are also other headaches facing the listed firm.
The possible closure of Sameer's plant, which has been in operation for decades, could add to a long list of manufacturers who have left the Kenyan market citing a harsh operating environment.
Eveready East Africa, where Mr Merali is also a significant shareholder, closed its Nakuru-based battery factory in September 2014 in what the company attributed to increased competition from cheap dry cells imports.
A month later, chocolate maker Cadbury closed down its manufacturing plant in Nairobi to "focus its resources on scale manufacturing facilities where it can generate greater efficiencies, to reinvest in growth".
Other manufacturers that have closed production lines in Kenya include Reckitt Benckiser and Colgate Palmolive.
Sameer exports to regional markets such as South Sudan, Tanzania, Uganda and Burundi.
The tyre manufacturer last year announced a partnership with a Chinese company to produce and sell the Summit brand which targets the low-end market.
Yana is Sameer Africa's flagship brand. Sameer has also been in negotiations with an unnamed investor, who is expected to pump in over Sh1 billion. The talks have been going on for the past two years.
  - By: DAVID HERBLING
  - Source: Business Daily