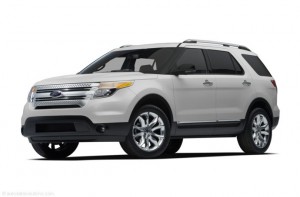 The 2011Ford Explorer has been redesigned as a car-based crossover that keeps many SUV cues, including a high seating position and a terrain management system. The Explorer now comes with three rows of seats standard, but Cars.com senior editor David Thomas found the second row to be cramped, and it became more noticeable when he installed his son's convertible car seat. Find out what else David liked and didn't like about the Explorer in his review.
Ford's rebirth has come as a result of the successful rollout of the redesigned Taurus large sedan and Fusion midsize sedan, but the brand hasn't found much success with its recent SUV and crossover strategy.
Instead of delivering a traditional crossover or minivan, Ford came out with the funky-looking Flex, which wowed journalists like us at Cars.com, but left buyers flat. Ford had to go back to the drawing board.
In hopes of delivering a successful three-row crossover, Ford has gutted its best-selling seven-seat SUV, the Explorer. The result is a very good crossover that looks and even feels a bit like an SUV.
The new Explorer will undoubtedly please SUV fans but it might leave families flat, thanks to a tight second row and high step-in height.
Performance
All Explorers feature the same 290-horsepower, 3.5-liter V-6, which is rated at 17/25 mpg city/highway with front-wheel drive and 17/23 mpg with all-wheel drive. That edges out the Chevy Traverse and Mazda CX-9 by 1 mpg on the highway. Over a few hundred miles in very cold Chicago-winter conditions, the Explorer's trip computer showed 14.7 mpg. That had plenty of highway and suburban driving mixed in, along with some cold morning warmups. A 237-hp, turbocharged four-cylinder will be offered for the 2012 model year. It will likely be available toward the end of 2011.
The mileage is palatable because the Explorer moves more capably than GM's crossovers, including the Traverse, despite having just a few more horses under the hood. There was always plenty of power on demand in the Explorer, and it didn't move like it was tugging 4,578 pounds.
In all other regards, though, the Explorer falls behind the Traverse and the great-performing CX-9, which are two of Cars.com's favorite crossovers.
The ride is firm and transfers bumps to all rows of passengers. When taking tight corners, like highway off-ramps, there's also body lean. If there's one SUV trait that drivers want less of, that's it.
A lot has been made about the optional Terrain Management System, which includes modes for regular dry pavement, hills and snow. Being in arctic Chicago, I was able to test the snow mode. By turning a simple knob to the snow setting, power is shifted between the wheels to compensate for slipperier conditions. It worked well, but once out of the muck you need to turn it off in order to not feel bogged down.
Exterior
I had the Explorer in my driveway for a week and couldn't decide if I liked its looks or not. It has a handsome profile and a contemporary back end, but the snout is unsightly from many angles. Neither the body-colored grille, which is available on the top, Limited, trim level, nor the Sterling Gray paint job helped matters.
The styling is decidedly SUV-like, and I'm already noticing lots of new Explorers popping up around my suburb, like Girl Scouts pushing cookies. That suggests the styling I don't love probably won't slow sales like the Flex's slab-sided design did.
On a positive note, the Explorer is nearly 8 inches shorter than the Traverse and 3 inches shorter than the CX-9, so it may fit in more garages and parking spaces.
Interior & Cargo
Ford has made strides in the interiors of some of its models, like the Flex and Fusion, but I was left cold by the digs in the Taurus sedan — which comes off the same assembly line as the Explorer. There wasn't as much room inside as suggested by the immense exterior dimensions, and there was too much bulky plastic covering the dash and doors.
Despite its space issue, the Explorer's interior — especially in my nearly $45,000 tester — was very nice for its price. The two-tone dash and leather seats felt upscale, while the dash was covered in soft plastics that also looked good.
The doors were decked out in two-tone coverings, and the all-new switches for the windows and mirrors were well-done.
The gauge cluster features the MyFord system, which includes small LCD screens on both sides of a central speedometer. These screens are customizable using thumb pads on the steering wheel. My preferred setup was the trip computer on the left screen, with stereo, climate and phone displays on the right screen.
Drivers will enjoy the traditional, high-above-the-road SUV perch, which is still a common want for many shoppers in this segment. The leather seats in my test car were comfortable, supportive and — dare I say — wide enough for much larger riders.
The second row of this three-row crossover, nay, SUV, was where the Explorer comes up short. The bench seat in my tester was short on legroom. (Dual bucket seats are optional.) I'm 5-foot-10, and I barely had an inch between my knee and the back of the driver's seat. Things were even worse for my young children in their child-safety seats. You can check out a thorough review of the Explorer's ability to handle a variety of child-safety seats here.
My 3-year-old son's feet were firmly pressed against the back of the driver's seat when it was positioned for me to drive comfortably. I had to move the seat up a bit to give him space. Then I was, of course, uncomfortable.
Making matters worse, the driver's seat powers back every time the engine is turned off. Why? Because otherwise it would be very uncomfortable to get in and out, as the floor height is above my knee level. There's also a dip from the doorsill to the interior floor. My wife, at 5-foot-6, didn't complain about it as much as I did, but she's a former Jeep owner.
I can see petite women – and, heck, me – getting annoyed at the arduous process of getting in and out. The Flex's terrifically low step-in height is perfect for families. Again, however, sales tallies suggest buyers didn't seem to care much about the great accessibility that vehicle offered.
While the Explorer's fixed second row — it doesn't slide forward and back like some competitors' do — is short on space, the third row is rather comfortable, even for me. I had room for both my knees and my feet even with the second-row seats reclined a bit.
At 21 cubic feet, cargo space is adequate with the third row in place, and maximum volume with the second and third rows down is 80.7 cubic feet. That compares with 24.4/116.4 cubic feet in the Traverse and 17.2/100.7 cubic feet in the CX-9. Surprisingly, the Flex is nearly identical at 20/83.2 cubic feet.
I found the space back there adequate with the third row up, but after flipping the third row down using power switches in the cargo area — available as part of an option package — the expanded area wasn't as large as I'd hoped (it's rated at 43.8 cubic feet with the third row down). It also wasn't easy to heave a 40-pound bag of dog food over the rear bumper; load-in height was at my waist.
Features
The Explorer comes in just three trim levels, which keeps things simple in the features department. The base model, called simply Explorer, starts at $28,190. That's about $1,000 less than the Traverse and CX-9.
For that, you get cruise control, the MyFord system mentioned above, four 12-volt plugs, a tilt/telescoping steering wheel, a six-speaker sound system with an MP3 jack, and tinted second- and third-row windows. But you also get unfashionable black door handles, side mirrors and roof rails, and 17-inch steel wheels.
Move up to the XLT, at $31,190, and you get a few feature upgrades, including a back-up warning system, Sirius Satellite Radio, chrome door handles, gloss-black heated side mirrors, fog lamps, automatic headlights and 18-inch aluminum wheels.
What you're not getting standard even at that price is Ford's Sync system. That comes only as part of MyFord Touch, which itself is part of an $1,850 Driver Connect Package, along with a backup camera, an upgraded eight-speaker sound system and dual-zone climate control. Navigation is another $795. Adding leather seats is an additional $1,000; they're available in a Comfort Package.
Not one Cars.com editor likes the MyFord Touch system. Generally, we argue about this kind of thing, but not about MyFord Touch. There's no reason to replace traditional buttons with tactile-less capacitive touch surfaces that work like an iPod's controls.
With MyFord Touch, basic controls on the Limited model I tested — apart from the multimedia touch-screen — are hard to use, and you have to look down from the road frequently to make sure your fingers are aiming correctly.
You can control nearly every aspect of these systems using voice commands, which work well and generally function with one or two prompts. Even so, I still believe that until voice commands work with one simple command at all times, they'll never be preferable to a straightforward interface using buttons and knobs.
Move up to the top-of-the-line Limited, and you get many of the options mentioned above, including MyFord Touch, Sync and leather seats. You also get push-button start, an upgraded Sony stereo system and remote start, all for $37,190.
If you want a power liftgate, you need to order a $2,000 option package that also adds heated and cooled front seats, the power-folding third row and voice-activated navigation. An upgraded version of that option package costs $4,100 and includes all of the above, plus safety features: adaptive cruise control with collision warning, blind spot monitoring and an automated parking feature.
If you want a dual-panel moonroof like my tester had, it will cost an additional $1,595. That's the only moonroof option. Rear dual headrest DVD screens are available for $1,995.
All in all, my all-wheel-drive tester, which had pretty much everything but the DVD screens, came to $44,095. A similarly equipped Traverse without the safety suite is $44,170, so the Explorer is fairly priced. However, shoppers will find more incentives on the Traverse and CX-9 than they will on the brand-new Explorer.
A slightly more upscale three-row SUV, the Acura MDX, costs $46,255 with similar features, minus the safety suite. Add the safety equipment, and you're at $52,205. So yes, you will pay a premium for the luxury make similarly equipped, it just may not be as high a premium as you thought.
Safety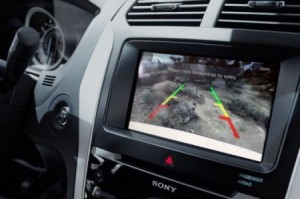 The 2011 Ford Explorer is an Insurance Institute for Highway Safety Top Safety Pick, the group's highest designation. That means it earned top scores of Good in front, side and rear crash tests, as well as in a roof-strength test.
The federal government has not yet tested the Explorer.
Seat-mounted airbags for front passengers are standard, as are curtain airbags for all three rows.
Inflatable seat belts are an option for the second-row seats in the XLT and Limited, at $195. These are the first ever offered on any vehicle, and will cover just outboard second-row passengers. The concept of the belts is to control head and neck movement in a crash, as well as to reduce pressure on the chest from the belt itself — a common safety risk for smaller passengers in crashes.
Explorer in the Market
Ford may have found its three-row crossover solution in the SUV-like Explorer, but I find myself focused on its few negatives. If it weren't for the high step-in height and cramped second row, I would be overjoyed with this vehicle.
This is one of those cases where I know the masses will likely not notice either hang-up because they'll be wowed by the new look, the available gadgets and the admittedly upscale interior. Hopefully, they won't be hampered by either defect because they're more limber than I am and have children old enough to not need safety seats. If that's the case, Godspeed.
Article by:
What Are Your Thoughts
Share with us what you think about this article