To accompany the announcement, BMW has revealed a teaser image of the upcoming 8 Series concept, hinting at its long, low, rakish profile. The ducktail lip on the boot and strong haunches at the rear hint at the new 8 Series being more than just a large luxury coupe too – BMW promises 'uncompromising dynamics', and as evidenced by previous spy shots, a flagship M8 version could be on the cards.
According to BMW chief executive Harald Kruger, the 8 Series will build on the Munich marque's "tradition of luxurious sports coupes and add a genuine dream car to our line-up – a slice of pure automotive fascination", adding "It will be a genuine sports coupé. We are reinforcing our claim to leadership in the luxury class."
We'll see the 8 Series concept in just over two weeks when it breaks cover on 26 May.
Our exclusive images and spy shots show how the production car is likely to look. We first revealed the 8 Series for set for a comeback in May 2016 as a rival to the Mercedes S-Class Coupe, and it's since been spotted testing out in the wild.
The shots show a large coupe bodystyle, similar to the smaller 4 Series, with the BMW kidney grille and large alloy wheels hinting at what's to come. It's clearly a two door car, with a long bonnet and rear section, plus a cut-off bootlid similar to the current 6 Series. The flowing roofline and muscular appearance aren't much to go on for now, but more details on the car were revealed by Auto Express via trademark records.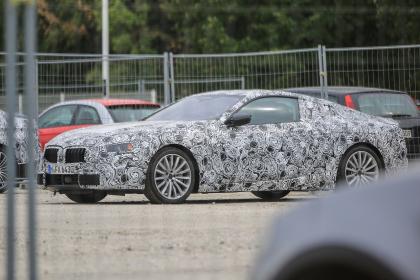 Trademark applications with the global intellectual property regulators showed that BMW had already started the basic prep work. In late March it applied to strengthen its control of a string of 8 Series-related names, including 825, 830, 835, 850, 845, 860 and M850.
A BMW insider has confirmed to Auto Express that the move was not merely a case of the company ring-fencing the badges for possible future use, and that it reflects an imminent rejig of BMW's GT line-up.
Some of the concepts from designers
What Are Your Thoughts
Share with us what you think about this article