NTSA Director General (DG) George Njao said the programme dubbed "Usalama Barabarani" is funded by the European Union and is expected to run for a period of three years.

Njao said the objective of the initiative is to enhance road traffic safety to reduce the number of fatalities caused by accidents.
"There is a need to strengthen road safety programmes and County Transport and Safety Committees (CTSCs) to reduce carnage," he said.
The director general noted that the programme also seeks to create awareness among Kenyans on road safety and trigger behavioral change that will lead to high levels of compliance.

"We need to change people's mindset by creating awareness. Arresting people is not sustainable and our aim is to have increased compliance," he added.

Speaking during the launch of the programme in Wote on Monday ,Njao disclosed that NTSA will spend Sh420 million for the programme to be implemented along the northern corridor counties with high numbers of road fatalities.

They include Makueni, Nairobi, Nakuru, Kericho, Kisumu and Kakamega.
The DG also launched a five day issuance of the smart driving license at the Makueni Huduma Centre and urged residents to take advantage of the exercise and register in large numbers.

He promised that NTSA will soon roll out mobile motor vehicles inspection units in the county as a way of decentralising NTSA services currently offered at Machakos county.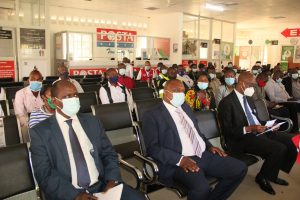 Speaking at the launch, County Commissioner Maalim Mohammed hailed the initiative and said the national administration will collaborate with NTSA to increase public education and awareness on road safety to reduce accidents.

"Information is key and there is a need to sensitise Kenyans on road etiquette," said Maalim.
He welcomed the move by NTSA to decentralise services to Makueni saying residents had to travel to Machakos to seek the services.
"It was costly for residents to travel to Machakos, besides the queues are very long.There is need to bring services closer to the people," said the county commissioner.

Maalim called on residents to come out in large numbers and register for the smart driving licenses being offered at the Huduma centre.
Speaking when the NTSA director general paid him a courtesy visit in his office Makueni Governor Kivutha Kibwana said his government appreciates the gesture by NTSA to roll out the safety programme to reduce carnage in the county.

Kivutha attributed the high number of accidents to the long stretch of Nairobi-Mombasa highway in the county and called for collaboration among all stakeholders to reduce the road accidents.

"Makueni has over 200 kilometres of the highway where most accidents occur leading to loss of lives and property," said the governor.
He asked residents to embrace the initiative and make roads safe for use.
SOURCE: https://www.kenyanews.go.ke/ntsa-launches-road-safety-programme-in-makueni/

What Are Your Thoughts
Share with us what you think about this article