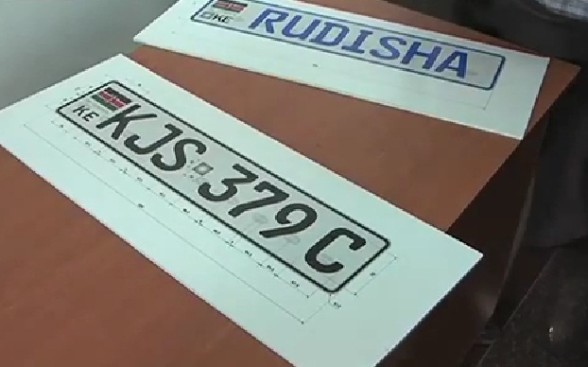 Last year, Joseph Ole Lenku the Interior CS has said that the government will be rolling out new 4th generation vehicle number plates. All car owners will have to buy the new plates which have an in-built bar code that will contain the owner's information and vehicle details like color, make and year of manufacture
A German company has won a Sh230 million tender to supply new generation number plates. EHA Hoffmann Group beat 13 other companies to win the tender, paving way for the introduction of the number plates. The other companies that bid for the supply include Utal, Moto Nguvu East Africa, Abcos Industrial Limited, Tropical Technologies and J Kinieriem BV.
But after the tender was awarded and Interior Cabinet Secretary Joseph Nkaissery approved it, Tropical Technologies lodged a complaint with the Public Procurement Oversight Authority (PPOA) to challenge the decision. The petition is set to be heard before the PPOA Thursday. Tropical had quoted Sh1 billion as what they would spend to supply the plates. Tropical, which has been supplying the current number plates, was the highest bidder.
Wednesday, Interior Spokesman Mwenda Njoka said the Government is ready to roll out acquisition of the number plates, which are difficult to replicate or forge.  PROCESS FAIR "We don't understand why they are aggrieved yet the process was open and clear to all bidders. We know there some agencies that want to derail us," said Mr Njoka.
The tender for vehicle number plates was advertised as an international bid in February 2015 and the process was spearheaded by the Kenya Prisons service, with the participation of The National Transport and Safety Authority. The new number plates would bear the name of the owner, vehicle registration number and the Kenyan flag.
The number plates will be reflected on the car engine, front and rear, and a third one will be placed on the windscreen. And to keep carjackers at bay, police officers will only use a barcode reader to ascertain the owner and the correct number plate of a vehicle.
The launch of the number plates will coincide with that of digital driving licences aimed at curbing reckless driving. The licences will have chips containing information such as personal identification number, contacts, past traffic offences, fines previously paid and warnings.
Read more at: http://www.standardmedia.co.ke/
What Are Your Thoughts
Share with us what you think about this article