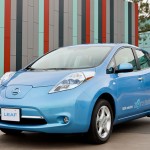 The 2011 Nissan LEAF™ is the world's first affordable, zero-emission car sold to general public. The Nissan LEAF is a medium-size hatchback that comfortably seats five adults and has a range of 100 miles (U.S. LA4 cycle) on one full charge.
The all-new Nissan LEAF is powered by 48 laminated compact lithium-ion battery modules and a high-response 80kW AC synchronous motor that generates 107 horsepower and 207 lb-ft of torque, providing a highly responsive, fun-to-drive experience that is in keeping with what consumers have come to expect from traditional, gasoline-powered vehicles.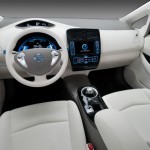 Nissan LEAF has no tailpipe and thus no emission of CO2 or other greenhouse gases while being driven. The Nissan LEAF can be charged up to 80% of its full capacity in 30 minutes when equipped with a quick charge port and using a DC fast charger. Charging at home through a 220V outlet is estimated to take approximately eight hours. The advanced lithium-ion battery pack carries an industry-competitive warranty of 8 years or 100,000 miles.
The Nissan LEAF utilizes an independent strut suspension with stabilizer bar in front and a torsion beam rear suspension with integrated stabilizer bar.
Responsive steering is provided by a vehicle-speed-sensitive electric power steering system. Braking is provided by power-assisted front vented disc/solid rear disc brakes with Anti-lock Braking System (ABS), Electronic Brake force Distribution (EBD) and Brake Assist (BA).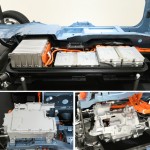 LEAF's standard regenerative braking system helps increase range. By applying the brakes or reducing speed by letting off the accelerator, the electric motor acts as an electric generator, converting energy that would otherwise be wasted into battery energy. To increase regenerative braking, there's a driver-controlled Eco mode setting, which can also be used to reduce air conditioning and thus improve driving range when driving in urban areas.
Because LEAF does not have an internal combustion engine, Nissan has incorporated an "Approaching Vehicle Sound for Pedestrians" system, which is designed to alert pedestrians that a vehicle is approaching. When driving at low speeds (below 16 mph), the system emits a sound from a speaker at the front of the vehicle. When the vehicle's speed reaches 19 mph, pedestrians are able to hear the car moving and the "approaching sound" automatically turns off. If the vehicle speed drops below 16 mph, the sound comes on again.
What Are Your Thoughts
Share with us what you think about this article