On Saturday night October 24, a saloon car broke through barriers erected along Mombasa Road to mark the pits currently being dug up in the Nairobi expressway project.
Parts of the busy Mombasa Road and a section of Waiyaki Way in Nairobi, have been cordoned off by the contractor thereby converting the triple lanes into two.
The driver was caught out by the convergence and dived through the barrier and straight into the pit riddled with heavy gauge construction metals close to NextGen Mall.
Footage of the mangled up car has since emerged, showing the point at which the car broke through as well.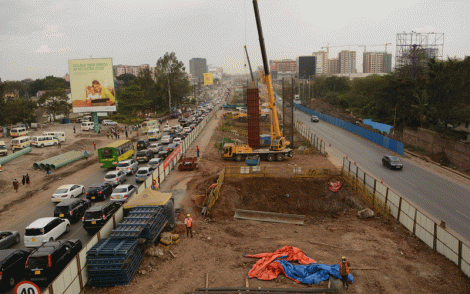 The state of the driver and passengers is yet to be established.
At least 4 other cars were involved in the accident that happened close to Capital Centre, as they tried to avoid each other at the point the lanes converged.
An overturned truck lay on the side of the road, with the dual lanes littered with various car parts and shattered windscreens strew across the tarmac.
According to eyewitness reports, the driver of the saloon car is said to have been intoxicated at the time of the accident.
At least 200 metres before the scene of the accident, the contractors had erected warning signs directing motorists to slow down due to the construction works ahead.
However, the poorly lit area has raised concerns with Nairobians warning of more accidents if it goes unaddressed.
There has been a rise in the number of accidents over the last months, mostly linked to drunk-driving.
On the first weekend of bar operations since Covid-19 pandemic, 60 people were killed in road accidents, the highest number of fatalities in recent months.
"We will have random drink-driving alcoblow tests on major towns and highways from today," said Police spokesman Charles Owino announced on October 9.
Kenya had been implementing the use of alcoblow tests until last year when it was withdrawn due to misuse by police officers.
Police were accused of using the alcoblows to harass and extort motorists, prompting the Inspector General of Police Hillary Mutyambai to suspend its use.

SOURCE: https://www.kenyans.co.ke/news/58543-car-plunges-nairobi-expressway-pit-mombasa-road
What Are Your Thoughts
Share with us what you think about this article