A crafty unsuspecting motorist was captured by CCTV cameras looting a petrol station while the attendant was away.
The man had stopped for fuel at a petrol station along Mombasa Road when greed got the better of him.
Clips which surfaced online on February 7, showed the driver picking products which were on display next to the fuel pump.
In the video, a man speaking in the background could be heard questioning the whereabouts of the petrol station's security guard as well as the attendants.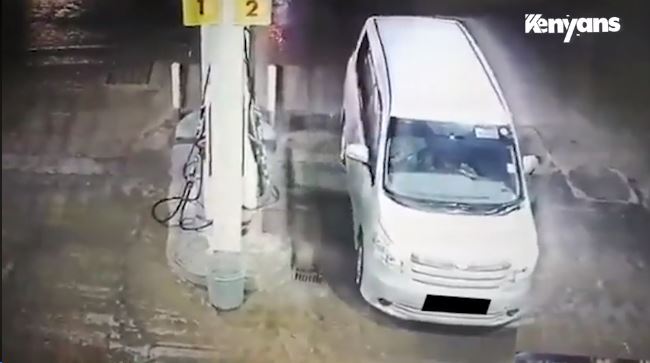 "He has used up so much petrol just because there is no one to supervise him. The one who is serving the client is not there.
"That is like Ksh 13,000, money that can be used as someone's salary and nobody is there to look after these things" the voice could be heard saying.
A colleague weighed in adding, "Imagine he would have stolen everything in the gas pump."
CCTV cameras have been of great help in aiding authorities to better solve crime in the country.
Just recently, CCTV footage from B-Club surfaced allegedly showing Embakasi East MP Babu Owino shooting a DJ at B-club.
The footage captured the victim being dragged out of the club's elevators.
Babu's lawyer Cliff Ombeta, however, alleged that the CCTV footage may have been edited.
"The clip also allegedly shows what transpired in the club, you can see it's just a few seconds. Babu had been in that club for much longer. Babu had been in the club for a better part of the night.
"We need the DCIO and any other investigating team that's proceeding with this matter to take the clip in its entirety so that we do not only pick an issue that we can see and forget part of it that could have been building up to that particular moment. An edited clip should not be a conclusion to this particular case," Ombeta told journalists. 
14:10 #KCA206L Shell Mombasa Rd . This driver stole a lot of lubricants last night. Car reg KCA 206L. @NPSOfficial_KE @DCI_Kenya @vivoenergykenya pic.twitter.com/nQvht763eb via @Jackie_Arkle

— Ma3Route (@Ma3Route) February 7, 2020
SOURCE: kenyans.co.ke
What Are Your Thoughts
Share with us what you think about this article