Members of two rival matatu saccos blocked Narok-Nairobi-Bomet highway for hours on Saturday, in a fight over a passenger pick-up and drop-off point.
The passenger service vehicle operators put up roadblocks and lit fires, causing chaos on the busy highway.
Business in the central business district was also affected as police stepped in, lobbed tear gas canisters and chased away the protesters.
They did so to make way for motorists and tourists heading to and from Maasai Mara Game Reserve.
WHAT HAPPENED
On Friday night, Narok County askaris waded into the dispute by placing stones on the road near Hass petrol station. Sacco officials said the askaris sealed off the petrol station after placing the stones.
On Saturday morning, members of Narok Line Services Sacco, who found the stones on the road, protested against the closure of their new terminus at Hass. However, they pointed the finger at members of Narok Star Sacco.
Narok assembly majority leader Benard Torome, who is also the town's MCA, condemned the move by the county askaris and threatened a motion for the sacking of those behind it.
"This is like inserting a hot rode into a wound. The people [who put the stones at the petrol station] must be sacked since they were influenced by one faction to do so behind the back of the county management," said Mr Torome.
Narok Line members claimed their rivals colluded with the officers to frustrate them.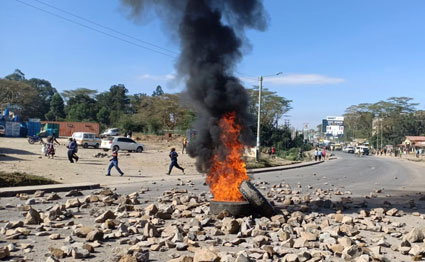 Hass landlord Tempes ole Ntimama said the askaris behaved in an uncivilised manner.
"Why would an organ of the county take sides in the dispute? Why would one fill a business premises with stones just because it is hosting one of the factions?"
Mr Ntimama asked Governor Samuel Tunai to intervene to ensure healthy competition in the industry.
The saccos started wrangling last week after Narok Line separated from Narok Star. They both operate between Nairobi and Narok.
Narok Star had been hosting Narok Line at its office at Shell Petrol Station but the latter turned to court and obtained orders to operate separately.
The wrangles were fuelled by a row over exclusive rights to the terminus at the Shell station in Narok town.
Narok Line accuses the county of malice and favouritism. In February, it asked the Transport Licensing Appeals Board to resolve the matter, saying the National Transport and Safety Authority had failed to do so.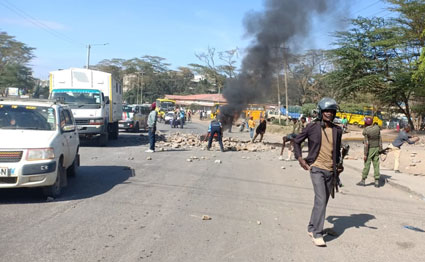 SOURCE: nation.co.ke
What Are Your Thoughts
Share with us what you think about this article