You might have met various unofficial traffic marshalls stationed at various roads in Nairobi and wondered how they make their money.
In particular, along Thika Superhighway, a number of traffic marshalls mostly situated at Muthaiga, advise which roads drivers should use to evade traffic and save on time.
Speaking to TV47's Njenga Wambui, Christopher Ndung'u, narrated his experience working as a self-appointed traffic marshall and how it helps him make a living.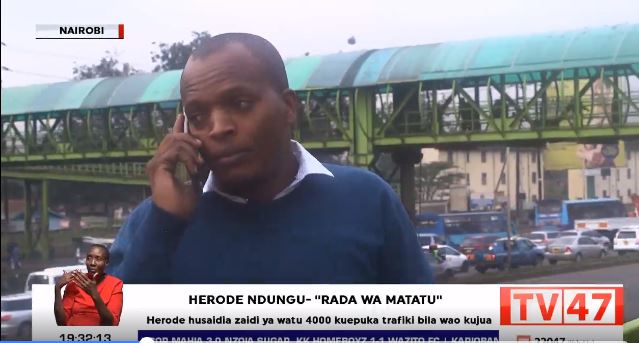 "I started doing this job four years ago. I was a conductor working with Unified Poa Sacco but I felt like I wanted to do more. Hence, I quit the job.
"Some of my friends thought I was crazy because I had left. It was a job that was envied by many because we only worked for six hours," he stated.
Ndung'u, who pitches his camp at Muthaiga every weekday at around 5 a.m., narrated that drivers and conductors contact him for a traffic update every now and then.
He has a number of phones which keep ringing constantly. All these people seeking help to navigate through the traffic.
When asked if his job offered good money, Ndung'u hesitated to answer but disclosed he earned around Ksh1,000 in a day.
"That's a tricky question but let's just say that in a day I earn around Ksh 1,000. I always go to their Saccos and ask for the money," he stated.
In addition, Ndung'u encouraged the youth to be creative in finding employment.
Drivers who work with Ndung'u showered praises on him, stating that he was very efficient with his work.
"When I woke up today, there were so many vehicles that were in the queue, now, they have to catch up with me because Ndung'u has helped me get ahead of around six vehicles."The passengers were able to get to the workplaces in good time and I was able to save time," Geoffrey Kim, a matatu driver stated.
According to a survey by the Kenya National Bureau of Statistics (KNBS) in 2018, seven million Kenyans are unemployed.
KNBS further stated that out of the seven million, 1.4 million had been looking for jobs to no success.
SOURCE: kenyans.co.ke
What Are Your Thoughts
Share with us what you think about this article