In yet another bewildering development Modern Coast Express Limited has posted on Twitter a letter allegedly from the National Transport and Safety Authority allowing it to resume operations.
This comes barely an hour after NTSA dismissed an earlier post by the bus company that it had been given the green light to resume business.
In a Twitter message, NTSA says: "This is to notify members of the public the suspension of Modern Coast Express has not been lifted." 
This was in response to the Modern Coast message to its customers.The bus company had earlier in the day apologised to the affected passengers for the inconvenience caused for the past four days.
"We are pleased to inform all our passengers that we have received permission from NTSA to resume normal scheduled bus services from 1.00 pm today," the company posted on its Twitter account.
But in the latest twist, in a letter allegedly from NTSA and seen by the Standard Digital, the regulator tells the bus company, among other things, "In view of the above stated progress, the Authority has decided to lift the ban on the 43 vehicles that have passed the inspection.
Other vehicles still undergoing inspection would be cleared once they have completed inspection."The letter is signed by George Njau, Director-General.  It is headed Re: Lifting of suspension of Modern Coast Bus road service license and dated December 17, 2019.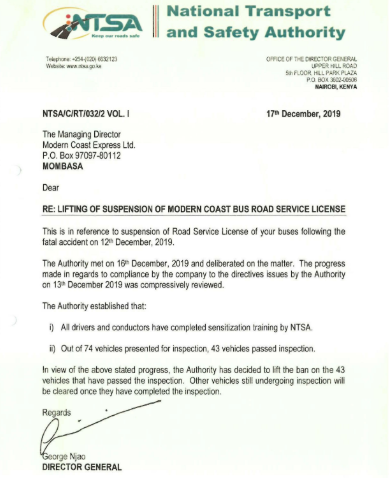 The letter further states the Authority and the bus company met on December 16, 2019, and deliberated on the matter. 
The agency last week directed the National Police Service to impound any of their vehicles found to be operating contrary to the suspension.
"Following the early Thursday morning crash involving two of their buses, the Authority has with immediate effect suspended the Company's operator's licence and initiated a thorough investigation into its safety standards and operations," read part of the statement.
The agency also deactivated the company's access to the NTSA portal to limit any activities on their 88 vehicles, as the probe continued.
The crash occurred at Kiongwani, near Salama town along Mombasa-Nairobi highway, Makueni County.
Seven people died and 60 others were injured in the 2:30am accident involving two buses from the Modern coast bus company.
One of the killer buses was headed to Nairobi from Malaba while the other was from Nairobi heading to Mombasa.
SOURCE: standardmedia.co.ke


What Are Your Thoughts
Share with us what you think about this article