Mombasa traders on Monday staged a demonstration against the government over a decision to transport all containers from Kilindini harbor to Nairobi Inland Container Deport.
The demonstration, which started at Makupa round about to Changamwe round about in Mombasa west, caused a jam between the Island and Mombasa mainland.
The demonstrators carrying placards castigating Kenya Ports Authority, Kenya Revenue Authority officials and a minister walked over 10 kilometres as they sang songs against the government.
As the demonstration continued, the truck drivers hooted as a sign of solidarity while road construction workers also abandoned their works to cheer demonstrators.
The traffic police officers in the usually busy highway had a hectic time pleading with the demonstrators.
Mvita MP Abdulswamud Shariff Nassir and acting Chairman of First Action Community in Mombasa Group Benard Simiyu later addressed the demonstrators.
Nassir said Mombasa residents had a right to demonstrate on anything infringing on their rights.
"I am supporting Mombasa residents to demonstrate against the decision by KPA and KRA to order for 100 per cent of transportation of containers from the port of Mombasa to Inland Container Depot in Nairobi," said Nassir
Simiyu complained that the monopoly of transporting containers from Mombasa to Nairobi was already causing many problems for clearing agents, transporters and other business.
"The land lords, hotels and other business have been affected because of the loss of business," said Simiyu.
Long Distance Drivers and Allied Workers Union Secretary Nicholas Mbugua asked the government to allow SGR to transport 50 per cent of the cargo from the port to Nairobi.
He said this would enable other businessmen and Mombasa people to have what to depend on instead of taking everything.
Mbugua, however, said the drivers and transporters should not shy away from moving to Nairobi and Naivasha because there is no remedy now because the railway line has already been built.
The owner of Golden Boy Haulers  Said Nassir complained that some of the trucks he took on loan could be seized any time by banks as he cannot service the loan.
"I am very worried because I am unable to repay the loan for the trucks which I had bought to expand my business," said Nassir.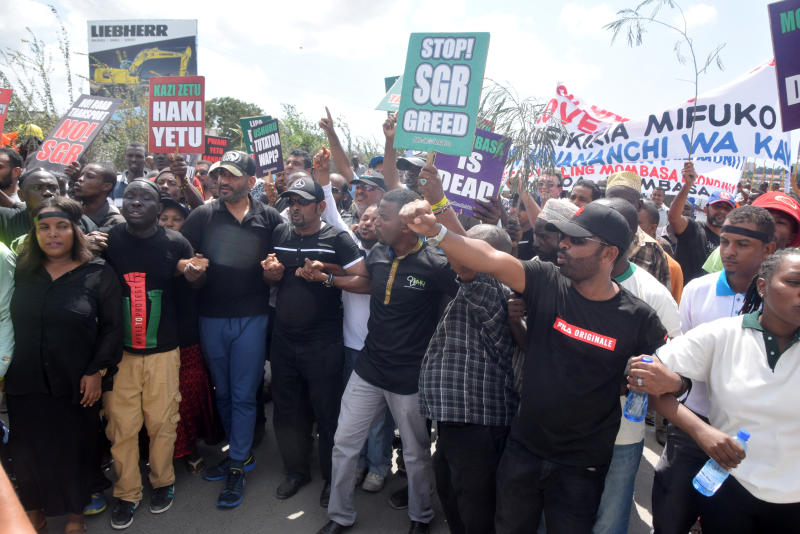 Nassir who has been in the transport business for over 20 years said he had already laid off his drivers and turn boys because there is no business.
"We do not have cargo to transport from the port to various warehouses and Container Freight Stations in Mombasa because everything is being transported to Nairobi by SGR wagon trains," said Nassir.
A study by University of Nairobi's School of Economics indicates that Mombasa's economy will shrink by 16.1 per cent with 8,111 jobs lost if the Standard Gauge Railway (SGR) evacuates all cargo from the port.
According to the study, the county has already lost Sh17.4 billion and 2,987 jobs equivalent to 8.4 per cent of its annual earnings since the implementation of government policies requiring the mandatory transfer of most import cargo through the Madaraka SGR freight service to Nairobi in 2017.
For centuries, Mombasa's economy has gravitated around the port but now its mainstay is facing a challenge in what some observers say is a slow and painful death.
"The transport sector is dying before our on eyes, firms are now laying off drivers, everything is moving to Nairobi," said Kenya Transporters Association (KTA) Chief Executive Officer Dennis Ombok.
Dock Workers Union Secretary General Simion Sang also paints a gloomy picture of Mombasa's economy.
Mr Sang says that only 13 per cent of the cargo at the port is bound for Mombasa with the remaining destined for Nairobi, Uganda, Rwanda, Burundi, Southern Sudan and parts of the Democratic Republic of Congo.
"Of all that, 27 per cent of the cargo is destined for landlocked countries and 60 per cent for Nairobi, the 87 per cent will soon be cleared from Nairobi," he says.
But in a marked departure from past agitation, the report also demonstrates that in spite of these negative impacts, Mombasa's economy can still thrive in perfect co-existence with SGR if the state implements remedial policies including fast-tracking of the Dongo Kundu Special Economic Zone and other potential industrial parks to create new employment opportunities for Mombasa.
SOURCE: standardmedia.co.ke
What Are Your Thoughts
Share with us what you think about this article