If COVID-19 had not disrupted the economy, Museveni said it had been projected to grow by over 7% this year.
INDEPENDENCE|MUSEVENI|SCIENCE|INNOVATION
President Yoweri Museveni has banned the importation of buses into Uganda, saying the country, under Kiira Motors Corporation, has now developed capacity to assemble and manufacture vehicles locally.

Speaking during the celebration of Uganda's 58 years of Independence on Friday at State House, Entebbe, Museveni said he has already written to all Government officials to implement his directive on local purchase of buses.

"I have already written to the Government. I do not want to hear anymore of imported buses. They will be bought from here. We also have the capacity to assemble our own. So, I do not want to also hear about importing assembled buses," he said, rooting for more funding for science and innovation.

Kiira Motor has, since last year, showcased its flagship electric-powered Kayoola buses, an innovation, Museveni said, Friday, that should be given priority by the Government and citizens, who have, over time, imported vehicles, such as buses, among others.

The Kiira Motors Corporation electronic car assembling plant, Museveni said, is expected to be completed in June next year.

The President also rallied Ugandans, especially manufacturers, to use the challenges that COVID-19 has imposed on the country to innovate and manufacture products locally to spur his drive for import-substitution.

Positive outlook

Describing Uganda's economic outlook as "positive", Museveni said his government has, overtime, built a firm foundation for a self-sustaining and integrated economy.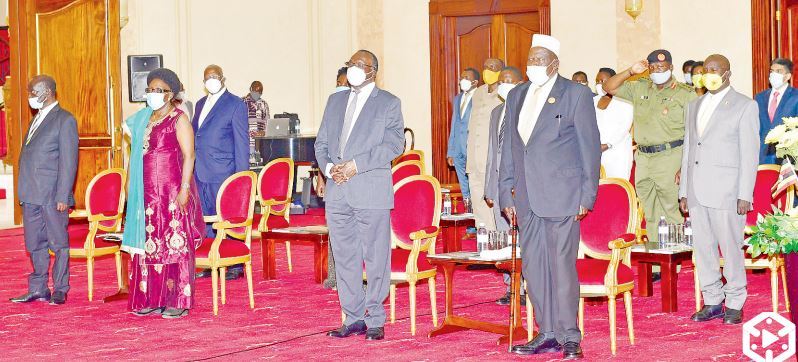 "Uganda's economic outlook is positive. Ugandans can now see clearly the opportunities. The COVID-19 pandemic, therefore, provides great opportunities for us to accelerate our import substitution," he said, adding that import substitution and spurring economic development locally will also be based on the comparative advantage of Uganda.

The President also pledged to help a Ugandan scientist, Dr Silver Kiyimba, who developed a computer system to track government drugs and avert drug theft, get his footing despite delays by the health ministry officials to have his programme rolled out.

Import substitution

The guiding principle in import substitution, Museveni added, is creating production efficiency using locally-made inputs.

Looking back from 1962, when Uganda became independent, Museveni said: "The journey has not been smooth, but we have come a long way."

Given the outlook of the economic progress, Museveni said in the last financial year, the country has been able to build about 168 industries/ factories, a move that has created jobs for Ugandans, especially the youth and women.

The economy, he added, has also grown in the same year at about 3.2% per year compared to the negative economic growth figures posted by other countries — given the ravaging financial shocks that COVID-19 has subjected the country to.

"Our economy has been able to withstand the potential negative impact of COVID-19. In case you are not sure that Uganda can stand on its own, you have seen," he said, adding that when the country shut the airport and land borders, "things remained moving" and the country's economy did not contract significantly.

If COVID-19 had not disrupted the economy, Museveni said it had been projected to grow by over 7% this year. The economic growth registered so far, he added, is not accidental.

Govt planners sleeping

However, the take-home, according to the President, is the fact that COVID-19 has enabled the country to sort out certain things.

"We shall not turn back to a chaotic country that we inherited in 1986," he said, calling on Ugandans to avoid importing items that the country has the capacity to produce locally.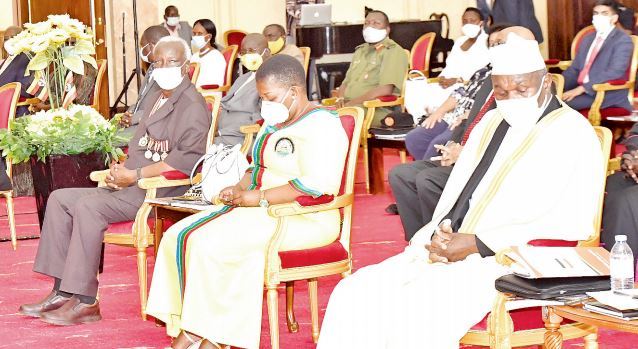 For instance, he wondered why Ugandans are importing beans.

Describing it as squandering resources, the President said $24m is wasted on the importation of animal-related products, $290m on used clothes, $1.3b on minerals and $159m on paper, among others.

Although he said it is understandable to import mineral-related products, especially petroleum products because the country is yet to construct an oil refinery, Museveni said it was inexcusable for the country to import other products.

To avoid the importation of paper, the President said plans are underway to start manufacturing paper from banana fibres locally.

"The reason I have mentioned all these products is that we have their materials here and we can manufacture them locally. The planners have been sleeping on the huge potential that we have here," he said, adding that COVID-19 has enabled some manufacturers to wake up and respond to local needs, including the manufacture of sanitisers.

Agriculture

Tapping into the unlimited agriculture potential is the other area that Museveni singled out, saying the demand for Ugandan products is picking up and the investment appetite into the country is also booming.

Last year, Museveni said, 246 projects were licensed and an investment plan of about $877m in additional investment projects, accounting for about 60,000 jobs nationally and 21,000 specific manufacturing jobs.

So far, the country has earned about sh3.8b from the export of goods, with fish exports accounting for $180m.

Production of manufactured goods, Museveni said, has also increased, with sugar now registering about 500m tonnes and steel (280,000 tonnes), among others.

Due to under-declaration, Museveni said the production of beer recorded slightly lower rates. However, he added that the problem of underdeclaration has been cured with the introduction of digital stamps.

"Even with COVID-19, the demand remains high. There is unlimited potential in agriculture," he said.

DR Congo road construction

On road construction, Museveni said the National Resistance Movement (NRM) government has so far invested in 550,000 paved roads; including the oil roads, which he said will spur oil production activities.

He said prioritising the construction of regional infrastructure projects, especially roads to spur market gates for Ugandan products and penetrate regional markets, is a welcome venture that leaders have all agreed on.

"I saw the other day some people in Parliament asking why is this stupid man, Museveni, is building roads in DR Congo when we have bad roads here.

''Yes, we have our roads here, but in order to build the bad roads here, we need to trade with DR Congo and South Sudan, which will enable us to get more resources. It is not good; it might even annoy our neighbours," he said.

"So, we are going to build all those roads," Museveni said, noting that the road connecting Uganda to DR Congo is needed badly because Uganda earns $500m from the country per year in trade-related activities.

"We had agreements with DR Congo to build all those roads, but also to sell power there," he said.

"When we launch our manifesto, I will tell you more about other roads that are in the pipeline," he said, adding that the Government and DR Congo agreed to pave GoliBunya, Bunagana-Goma and Beni-Butembo roads.

Cabinet recently approved the construction of the 223km road network inside DR Congo.

Expansion and construction of other corridor roads, Museveni said, will also commence. The other projects that will be expanded include industrial parks of Kampala, Mbale, Kapeka, Bweyogerere, Kasese, Soroti, Luzira, Jinja and Mbarara.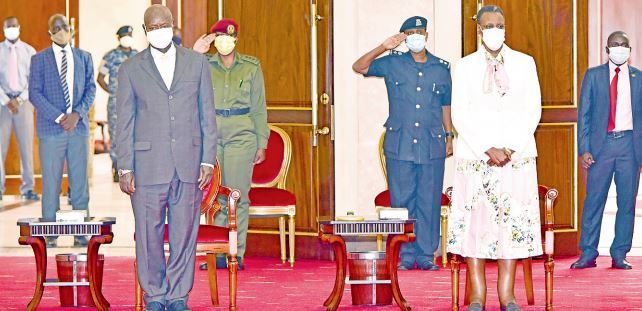 "We shall expand to other areas as we collect more revenue," he said, cautioning Ugandans against suffocating government projects with refusal of compensation.

Quoting the words of the chairperson of the Indian Association in Uganda, the President said the country is now characterised by three Ps — peaceful, pleasant and profitable.

Celebrating Uganda

Independence Day was celebrated under the theme, "Celebrating Uganda's steady progress towards economic take-off and self-sustaining economic growth". Museveni, accompanied by the First Lady and education minister, Janet

Museveni, arrived for the virtual Independence Day celebrations yesterday at State House, Entebbe at about 1:00pm. In his prayer, the Bishop of West Buganda, the Rev. Henry Katumba-Tamale, advised politicians to get rid of bitterness ahead of the 2021 general elections.

The Minister for Presidency, Esther Mbayo, said under the new normal, there was no award of medals yesterday. However, she added that at an appropriate time, the medals will be awarded.

"As we celebrate independence, reflect on how Uganda was before, after independence and now," she said.

Mbayo requested Museveni to launch a book on Musevenomics, compiled by Operation Wealth Creation (OWC) officials, detailing the transformational journey that the country's economy has developed under Museveni.

In his citation for the book, the deputy co-ordinator of OWC, Lt. Gen. Charles Angina, said it is intended to document Museveni's contribution to Uganda and humanity, especially the vulnerable groups, comprising 68% of the population that is currently trapped by traditional agriculture.

"This is the book that all cadres must read in order to implement your vision to take this country to the middle -income status," Angina, who represented Gen. Caleb Akandwanaho aka Salim Saleh at the ceremony, said.

The Vice-President, Edward Ssekandi; the Speaker of Parliament, Rebecca Kadaga; the Chief Justice, OwinyDollo and the NRM secretary general, Justine Kasule Lumumba, among other dignitaries, attended.

Others were Deputy Prime Ministers Gen. Moses Ali (First Deputy), Ali Kivenjejinja (Second Deputy) and ministers.

Rosa Malango, the head of the United Nations in Uganda, also attended, among other diplomats.

Expensive power

The President said there are some bottlenecks that still disturb the country's progress, such as the high cost of capital, especially the high interest rates tagged on access of loans from commercial banks.

To avert the high cost of capital, Museveni said capitalisation of Uganda Development Bank (UDB) has been improved to sh1 trillion.

The other alternative, he added, is to start an agricultural bank that will specialise in farmers' activities by providing affordable capital.

"Our Kampala youth believe in quick money rather than being patient. Nothing is based on quick fixes in life. Commercial banks also deal with quick fixes," he said.

The other bottleneck, he added, is the high cost of electricity, a challenge which Museveni said was studying closely, especially the role of UMEME, the country's power distributor.

"When we attended meetings in Nairobi with the Japanese, we pointed out to that group what needs to be done," he said, adding that the infrastructure deficit in Uganda was top on agenda during the meeting.

Electricity in Uganda, the President said, is now in excess and what is left is how to use it.

"There is a group called UMEME. These are private individuals who like making profits and not small profits. For me, I think if you are looking for high profits, there are areas, such as night clubs and casinos, where you can make high profits and I will not follow you. But when it comes to electricity, you come with a different philosophy," he said.

Museveni said his main issue with UMEME is how power can be sold to manufacturers cheaply, instead of fostering the profit-making mentality that UMEME has exhibited over the years.

"We are studying it thoroughly," he said.

SOURCE: https://www.newvision.co.ug/news/1529080/museveni-bans-importation-buses
What Are Your Thoughts
Share with us what you think about this article