The only vehicles that will be used on Kenya's first floating bridge under construction at the Likoni Channel are ambulances, the transport Ministry announced.
CS James Macharia stated that the floating bridge was a temporary solution that would help to curb the spread of Covid-19, with plans underway for another mega project that will accommodate vehicles driving across the channel.
"There are so many commuters who use the ferry daily and this puts them at risk of contracting Covid-19. The floating bridge will serve about half of the users and this will ensure social distancing is practiced," Macharia stated.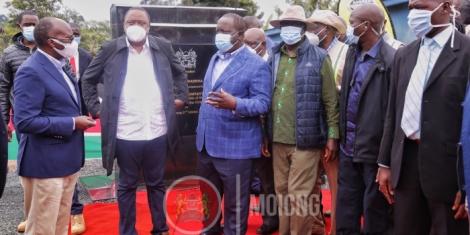 He hoped that the bridge would be launched before the end of the year by President Uhuru Kenyatta so that Mombasa residents would receive it as a Christmas present.
The CS also assured ferry workers that they would be absorbed by the Kenya Ports Authority (KPA) during the consolidated exercise.
"We are consolidating the services of Kenya Ferry Services (KFS) and Kenya Ports Authority (KPA). It is important for the KFS staff to know that their jobs are still there," the CS stated.
So far, construction of the bridge, estimated to cost at least Ksh1.5 billion, is 92% complete.
It spans a total of 1,058.9 metres in length, with the mid-section of the bridge movable to allow passage for sea vessels.
"There will be room for the largest ship measuring 50 metres to easily pass through the floating part of the bridge while calling or exiting the port," Macharia stated.
"The bridge is one of its kind. Passengers will be walking across as if they are on the island itself. Some of the materials used to construct the bridge were assembled in China."
The fixed Mombasa Gateway bridge estimated to be Ksh210 billion is expected to commence in December next year and be completed in four years' time.
Floating bridges are essentially boutique structures that only make sense for certain rare kinds of sites: unusually deep bodies of water and bodies of water with very soft bottoms, where piers are impractical.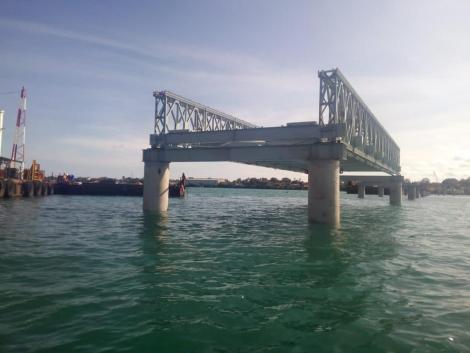 SOURCE: https://www.kenyans.co.ke/news/59839-special-motorists-wholl-use-likoni-floating-bridge

What Are Your Thoughts
Share with us what you think about this article