A city inspectorate traffic officer, popularly referred to as Kanjo, on Monday, October 26, caused a series of accidents in Nairobi's Central Business District (CBD) while attempting to arrest a suspect.
The officer crashed a car into a boda boda, a public bench along Kimathi Street and also hit another vehicle.
The Kanjo was engaged in a scuffle with a parking boy when she managed to overpower him and jumped into the driver's seat.
However, as she stepped on the accelerator peddle, the vehicle which was engaged in the reverse gear sped off in the wrong direction hitting a stationary boda boda.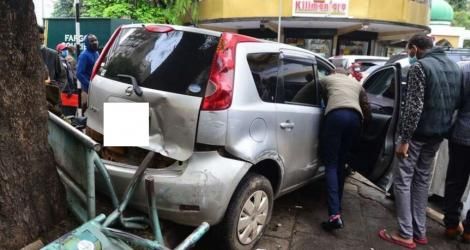 The boda boda rider managed to jump out of the way in time, saving his life. His motorcycle was, however, destroyed in the process.
Another oncoming vehicle was also hit with the driver noting that the officer was swearing uncontrollably.
Residents who were seated on a nearby park bench were also lucky as they narrowly escaped being rammed into.
The car came to a halt after smashing the city benches - damaging the rear bumper.
No injuries were reported in the melee as boda boda riders threatened to assault the officer over the damaged motorcycle.
Her colleagues managed to whisk her into safety before the situation got out of hand.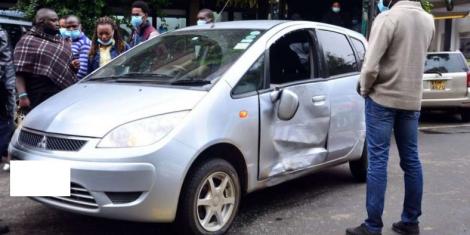 City Inspectorate officers are mandated to maintain law and order in the Nairobi CBD. They have however been in the limelight for using too much force while apprehending those who violate the city traffic and parking laws.
According to the Traffic Act (CAP 403), only traffic police officers in uniform are allowed to stop and enter vehicles during routine inspections.
"It shall be lawful for any police officer in uniform to stop any vehicle, and for any police officer, licensing officer or inspector, (a) to enter any vehicle; (b) to drive any vehicle or cause any vehicle to be driven; 
"(c) upon reasonable suspicion of any offense under this Act, to order and require the owner of any vehicle to bring the vehicle to him," the traffic Act (CAP 403) reads in part.
It further states that any person who fails to comply with any instructions given under this section shall be guilty of an offense and liable on a first conviction, to a fine not exceeding thirty thousand shillings, and for a second or subsequent conviction, to a fine not exceeding fifty thousand shillings or to imprisonment for a term of one year.
SOURCE: https://www.kenyans.co.ke/news/58581-traffic-officer-causes-accident-nairobi-cbd
What Are Your Thoughts
Share with us what you think about this article