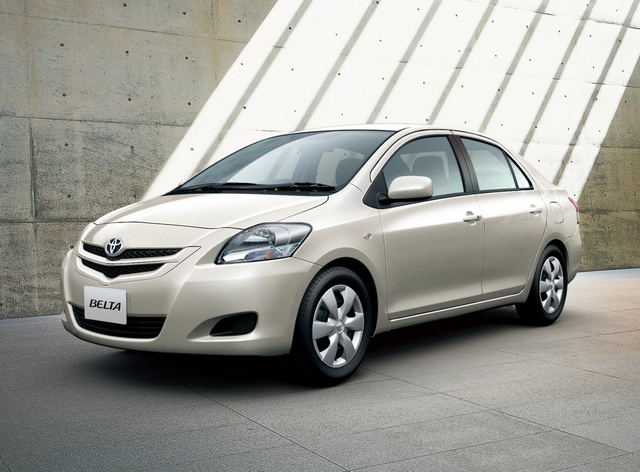 The Toyota Belta, referred to in North American and Australian markets as the Toyota Yaris and in South Asian markets as the Toyota Vios, is a subcompact sedan manufactured by Toyota. It is a redesigned version of the discontinued Toyota Platz sedan, and went on sale in Japan on November 28, 2005 equipped with 1.0- to 1.3-liter engines.
Export sales began in 2006, with some markets receiving a 1.5-liter engine either as standard fitment or as an optional upgrade.
For most Asian markets (except Japan), the Belta is built and assembled in Thailand and the Philippines. For the Japanese, American and Middle Eastern markets (except Israel and Morocco) the Belta is built in Japan.
The name "Belta" is a contraction of the Italian words "bella gente", or "beautiful people".
The Vitz (XP90) and the Belta (XP90) share underpinnings with each other. However, while the Vitz was designed at Toyota's French design studios, the Belta was designed at Toyota's Japanese design studios—design projects for similar cars marketed toward different demographics. While the outgoing Vitz and Platz models look and feel more alike, the new Vitz hatchback and Belta sedans are more subtly related.
Sharing a similar but different dashboard, they do not employ the same components. The cars only share a frame and the drivetrain options. The sheetmetal is completely different. The Belta has increased in size over the previous generation, its interior volume larger than the 2001–2008 generation Corolla.
The Belta is the only subcompact sedan which is designed, built and sold in Japan, and has no direct competitors in the Japanese Domestic Market, as the Vitz's competitors do not offer the sedan versions.
The center bias of the controls and displays is one of Toyota's efforts to standardize the design for all markets, left or right hand drive.
What Are Your Thoughts
Share with us what you think about this article