The momentum in the matatu crackdown, especially in Nairobi, has been watered down even before making any of the desired gains.
Such was evident in an incident on Wednesday night. Passengers boarded a 14-seater matatu from the city centre towards Lang'ata with several vehicles being spotted overloading from Nyayo Stadium.
In one of the matatus, the driver and the conductor were on their routine rush to make as many trips as possible until late into the night when the city officers are off the roads.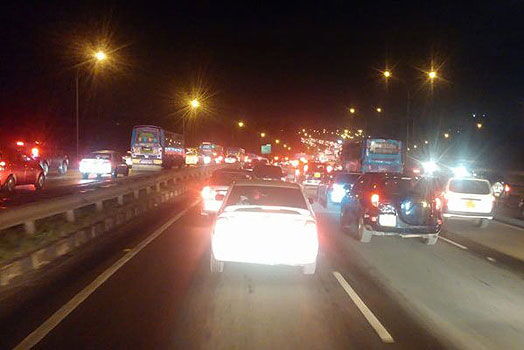 Just before the vehicle could leave, a man engaged the conductor at the door as if in a quarrel. He ended up occupying the space between the conductor and the adjacent passenger's seat as an excess occupant.
The driver drove off, not knowing the man seated right next to him was a police officer who we later established was a Mr.Daniel Erogon, attached to Nyayo Stadium.
He was in civilian clothes commuting from town and just like the rest of the occupants, he was not on duty at the time.
The drama unfolded the moment the conductor asked a passenger to tap the ones on the front seats to hand him their fares.
Erogon took a crispy note out of his pocket and the moment he turned to pass the money, he realised a man sandwiched between the conductor and two passengers on the left.
"Wait, you are carrying excess passengers! You can not do this when I am here. Now it seems you people think the crackdown is over right?" posed Erogon, immediately alerting his colleagues on phone.
Here is the video of what transpired in the matatu.
A number of passengers turned against Mr Erogon the moment he asked the driver to stop and drop the excess passenger.

"Please give my balance back before you give out all your money to bribe the officers," a passenger on board shouted after foreseeing a possible arrest.

Erogon persisted. His determination forced the driver to stop and the passenger had no option but alight from the matatu.

He opted to let free the vehicle but warned the crew against flaunting traffic rules just because no one was watching.

"You know me very well, this is a warning to you. No one wants to punish you. We only want order and not this madness you are showing us.

"Next time I find you two on the wrong, we'll not discuss anything" he warned the conductor and the driver before alighting at the Nyayo stadium roundabout.
SOURCE: kenyans.co.ke
What Are Your Thoughts
Share with us what you think about this article