A video of 14-seater matatu passengers ejecting the driver and his conductor from the matatu has gone viral.
Agitated passengers on Saturday ordered the driver for Lina SACCO registration number KCL740B travelling from Nairobi to Nakuru town to stop the matatu before they ejected him out.
The driver and his conductor are seen running away from angry passengers who wanted to beat them up for what they alleged to be careless driving and over-speeding.
The driver's sister who was also one of the passengers seated next to the driver was also partly blamed for the driver's carelessness.
One of the passengers accused her of confusing the driver which made him drive on high speed.
She denied the allegations by saying she could not confuse the driver for he was her brother.
"Why do they want to kill us, we warned him severally to drive carefully but he could not hear us or is it you confusing him," said one of the angry passenger.

An eyewitness who shared the video on Facebook, BShop Mehemehe said passengers lost their patience before they finally forcefully stopped the driver from going further.
Mehemehe who claimed was driving another car towards the same direction with Lina SACCO matatu said he noticed carelessness by the driver before he decided to record its moves.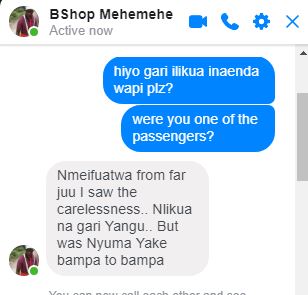 "God have mercy… This matatu almost killed the passengers the driver too careless…The passengers didn't vumilia… Wacha ndeere and conductor Walimwe na wathii…Haraka ya Kwenda wapi…Liloni, Nakuru highway…At kamandura.. Don't wait to be killed zusha…drivers be careful watu sio mboga," posted BShop Mehemehe.


What Are Your Thoughts
Share with us what you think about this article