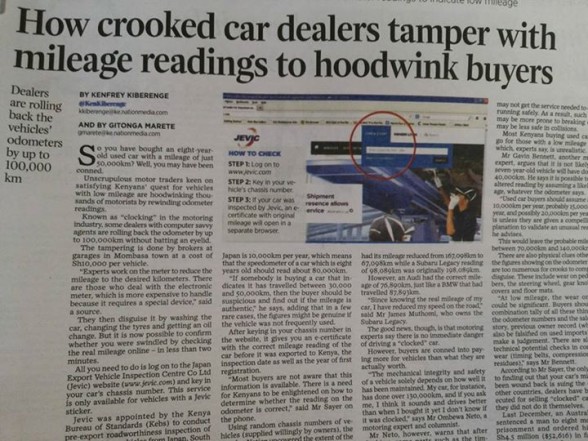 So you have bought an eight-year- old used car with a mileage of just 50,000km? Well, you may have been conned.
Unscrupulous motor traders keen on satisfying Kenyans' quest for vehicles with low mileage are hoodwinking thousands of motorists by rewinding odometer readings.
Known as "clocking" in the motoring industry, some dealers with computer savvy agents are rolling back the odometer by up to 100,000km without batting an eyelid.
The tampering is done by brokers at garages in Mombasa town at a cost of Sh10,000 per vehicle.
"Experts work on the meter to reduce the mileage to the desired kilometers. There are those who deal with the electronic meter, which is more expensive to handle because it requires a special device," said a source.
They then disguise it by washing the car, changing the tyres and getting an oil change. But it is now possible to confirm whether you were swindled by checking the real mileage online – in less than two minutes.
All you need to do is log on to the Japan Export Vehicle Inspection Centre Co Ltd (Jevic) website (www.jevic.com) and key in your car's chassis number. This service is only available for vehicles with a Jevic sticker.
Jevic was appointed by the Kenya Bureau of Standards (Kebs) to conduct pre-export roadworthiness inspection of all used motor vehicles from Japan, South Africa, Singapore, United Arab Emirates, and the United Kingdom, destined for use within Kenya.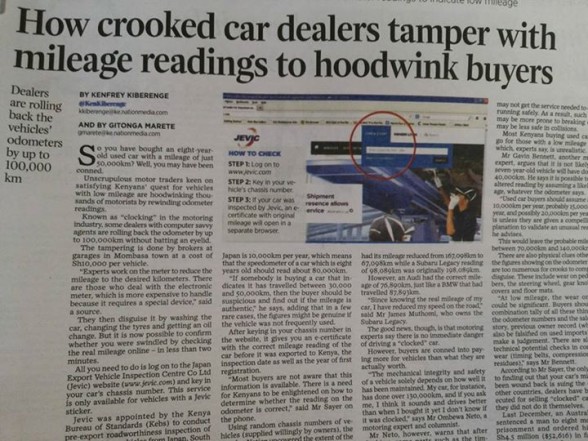 The inspection is intended to minimise the risk of unsafe and substandard vehicles entering the market.
Mr Lee Sayer, Jevic Africa MD, says the average number of miles a vehicle travels in Japan is 10,000km per year, which means that the speedometer of a car which is eight years old should read about 80,000km.
"If somebody is buying a car that indicates it has travelled between 30,000 and 50,000km, then the buyer should be suspicious and find out if the mileage is authentic," he says, adding that in a few rare cases, the figures might be genuine if the vehicle was not frequently used.
After keying in your chassis number in the website, it gives you an e-certificate with the correct mileage reading of the car before it was exported to Kenya, the inspection date as well as the year of first registration.
"Most buyers are not aware that this information is available. There is a need for Kenyans to be enlightened on how to determine whether the reading on the odometer is correct," said Mr Sayer on the phone.
Using random chassis numbers of vehicles (supplied willingly by owners), the Sunday Nation uncovered the extent of the alteration. We also established that some models are more prone to the problem than others.
A Subaru Imprezza mileage reading had been reduced from 177,125km to 77,125km while a Toyota Caldina's was altered from 129,078km to 59,200km. A Toyota NZE had its mileage reduced from 167,098km to 67,098km while a Subaru Legacy reading of 98,089km was originally 198,089km.
However, an Audi had the correct mileage of 76,890km, just like a BMW that had travelled 87,893km.
"Since knowing the real mileage of my car, I have reduced my speed on the road," said Mr James Muthomi, who owns the Subaru Legacy.
The good news, though, is that motoring experts say there is no immediate danger of driving a "clocked" car.
However, buyers are conned into paying more for vehicles than what they are actually worth.
"The mechanical integrity and safety of a vehicle solely depends on how well it has been maintained. My car, for instance, has done over 130,000km, and if you ask me, I think it sounds and drives better than when I bought it yet I don't know if it was clocked," says Mr Ombewa Neto, a motoring expert and columnist.
Mr Neto, however, warns that after clocking, some parts such as the timing belts, which should be changed after 100,000km, are left unchanged and can damage the engine because of the wrong odometer reading.
The danger is that a vehicle that has done 100,000km but only shows 50,000km may not get the service needed to continue running safely. As a result, such vehicles may be more prone to breaking down or may be less safe in collisions.
Most Kenyans buying used cars often go for those with a low mileage reading which, experts say, is unrealistic.
Mr Gavin Bennett, another motoring expert, argues that it is not likely that a seven-year-old vehicle will have done only 40,000km. He says it is possible to tell an altered reading by assuming a likely mileage, whatever the odometer says.
"Used car buyers should assume at least 10,000km per year, probably 15,000km per year, and possibly 20,000km per year. That is unless they are given a compelling explanation to validate an unusual reading," he advises.
This would leave the probable mileage at between 70,000km and 140,000km.
There are also physical clues other than the figures showing on the odometer which are too numerous for crooks to completely disguise. These include wear on pedal rubbers, the steering wheel, gear knob, seat covers and floor mats.
"At low mileage, the wear on tyres could be significant. Buyers should do a combination tally of all these things with the odometer numbers and the salesman's story, previous owner record (which can also be falsified on used imports), etc, to make a judgement. There are also more technical potential checks in component wear (timing belts, compression and oil residues)," says Mr Bennett.
According to Mr Sayer, the only recourse to finding out that your car's mileage has been wound back is suing the dealer. In other countries, dealers have been prosecuted for selling "clocked" cars even if they did not do it themselves.
Last December, an Australian court sentenced a man to eight months' imprisonment and ordered him to pay Sh4.5 million ($52,616) in fines, costs and compensation after convicting him of odometer fraud.
The same month, an American car dealer was sentenced to serve 18 months in prison and one year of supervised release besides paying Sh16.2 million in restitution.
Source: http://mobile.nation.co.ke
What Are Your Thoughts
Share with us what you think about this article