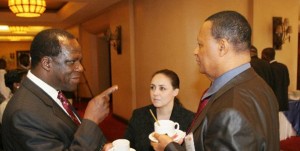 The government should allow blending of petrol fast to cut the country's huge import bill while cushioning consumers against high fuel prices, Planning Minister Wycliffe Oparanya has said.
Immediate implementation of the blending regulations would save the country the massive foreign exchange spent annually to import crude oil, besides easing inflation resulting from high fuel prices, he said Monday.
The minister noted for instance that, while Kenya's export earnings last year were Sh400 billion, the import bill stood at about Sh1 trillion with fuel accounting for half of that expenditure.
"If the trend continues, we will not be able to meet our economic growth targets because we are spending more and more money importing oil," Mr Oparanya told reporters in Nairobi. "We should start blending petrol to reduce this huge bill," he said.
The government's plan to allow use of ethanol fuel, which is a blend of petrol with ethanol, is already behind schedule because regulations on its production were gazetted in November 2009 and should have taken effect on March 1, 2010.
All motor petrol loaded from petroleum storage and loading depots for sale in Kenya were to be blended with power alcohol to make gasohol, according to the gazette notice rules issued by Energy Regulatory Commission (ERC), the industry regulator, on November 24, 2009.
Sugar companies had high economic hopes on the government's plan to allow petrol blending since they could produce ethanol by processing molasses, a by-product of the sugar making process.
Mr Oparanya's call comes at a time when consumers are grappling with high fuel costs despite the government's price regulation through the ERC. The high prices have seen the State yield to public uproar by cutting taxes on diesel and kerosene to ease the burden of low income earners.
Because of the high fuel price, inconsistent rainfall, a weak shilling and next year's General Election, the minister said, the government expects economic growth to slow down to 4.2 per cent this year.
The economy grew by 5.6 per cent in 2010 up from 2.6 per cent in 2009.
"Due to good rainfall last year, agriculture recorded positive growth from a negative growth the previous year, but due to erratic rainfall this year we do not expect it to perform as 2010," the minister said.
"As we approach the 2012 General Election, some investors will delay their investment plans, which is normal," he said.
Mr Oparanya said population had reached a worrying level, currently growing at an average of 2.9 per cent, which, he said, portends deep social crisis, if not interrupted.
He said the government plans to spend Sh100 million this year on family planning education.
The minister said the country should have workers who have requisite education and health.
"For that labour to be productive, you must provide quality education, healthcare and have them get jobs," he told reporters after opening African Community of Practice on Managing for Development Results annual meeting.
"Unfortunately, our economy is not growing fast enough to employ most people," he said.
What Are Your Thoughts
Share with us what you think about this article