British team Tuthill Porsche is once again leading this year's East African Safari Classic as former world rally champion Stig Blomqvist ends day four with a 50 second advantage over second-placed Ian Duncan. Experienced Safari driver Gerard Marcy has moved up to third in a second Tuthill-prepared Porsche 911 with David Horsey moving up three places to end day four in seventh position.
Yesterday was the longest of the nine-day event as the drivers covered 696 kilometres which included 322 competitive kilometres and crossed over the Tanzanian border back into Kenya. The day began with the 117 kilometre Monduli stage set north of Arusha where rally leader Blomqvist lost time when his Tuthill 911 became wedged in a sand bank.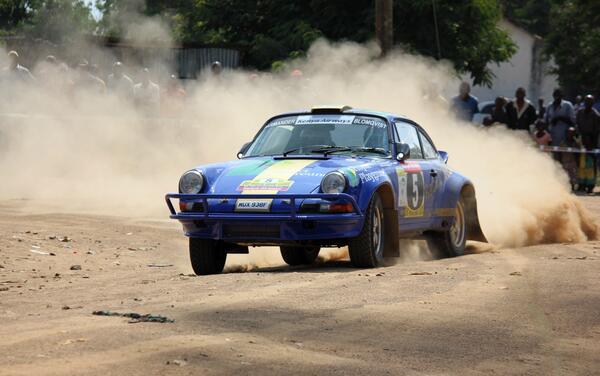 Blomqvist takes up the story: "We had problems with our brakes on the first stage so I was having to pump the pedal constantly. I pumped it slightly too soon at a corner aroud 50km into the stage and the rear of the car swung sideways and we got stuck in a sand bank. It was that really soft sand that we see a lot of in Africa so we had to jack the car up to get some rocks under the back wheels and it took about six or seven minutes to get back on the road."
The incident demoted Blomqvist to fourth in the standings but on the 116 kilometre Bulls Eye 1 stage that followed, Gregoire De Mevius – who was running third - went off the road and Duncan lost over five minutes with three punctures. The unexpected change of events meant Blomqvist was launched back up the leaderboard and was once again leading the rally. He and co-driver Staffan Parmander end day four 50 seconds ahead of Duncan.
During a day which was full of drama, Marcy and co-driver Stephane Prevot kept their noses clean with their only issue being one puncture and their Tuthill 911 being slightly down on power on the day's opening stage. Kenyan father and son pairing David and Alex Horsey had another solid day in their 911 and ended the day in seventh.
Patrick Van Heurck has moved up to 12th place in his orange Tuthill 911 he shares with co-driver Alain Lopes. "We had a broken throttle cable on the first stage so we had to stop and change it which meant we lost about five minutes. The last 20km of the final stage today was incredibly rough – there were loose rocks lying all over the place and whenever we went over one it felt as if we'd had a puncture," explain Van Heurck who is competing on his first Safari Classic.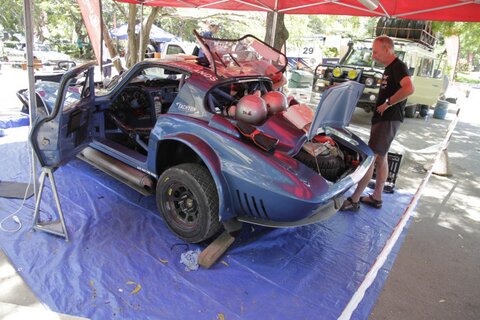 Sweden's Joakim Roman is lying 13th in another Tuhtill car but admitted he found today's stages extremely demanding. "I've competed in Cyprus a few times before so I'm used to the rough roads but today's stages were on a different level. We were so cautious on that last stage, the amount of rocks were unbelievable," explained Roman.
Experienced crew Jayant Shah and Lofty Drews are in 20th place with their only gripe being a puncture on the second stage. Touring car driver Richard Göransson and co-driver Emil Axelsson continued their charge today as they clocked the fastest time on the day's opening stage. After going off the road on the first day, the Swedish duo have gradually climbed the overall leaderboard and are now lying 28th overall.
Elsewhere, it was an unfortunate day for Franz Wunderlich who had been making steady progress driving Tuthill's green Porsche 911. The German driver hit a ditch at high speed, hurting his back in the progress. Wunderlich made it to the end of the stage but has since been taken to hospital for precautionary checks alongside co-driver, Klaus-Peter Kristek.
Team Tidö owner David von Schinkel – who is piloting Tuthill's pink Race4Health Porsche 911 – rolled his car on the final stage but managed to nurse it back to parc ferme which is being held in Amboseli national park.
Top 10 provisional results at end of day four (Sunday 24 November)
1. Stig Blomqvist/Staffan Parmander: Tuthill Porsche 911 9hr34m53s
2. Ian Duncan/Amaar Slatch: Ford Capri 9hr35m43s
3. Gerard Marcy/Stephane Prevot: Tuthill Porsche 911 9hr46m54s
4. Geoff Bell/Tim Challen: Datsun 260Z 9hr57m05s
5. Steve Perez/John Millington: Datsun 260Z 10h04m08s
6. Onkar Rai/Baldev Chager: Porsche 911 10h05m55s
7. David Horsey/Alex Horsey: Tuthill Porsche 911 10h06m15s
8. Philip Vendromme/Frederic Vivier: Porsche 911 10h11m54s
9. John Lloyd/Adrian Cavenagh: Ford Escort RS1800 10h11m56s
10. Andrew Siddall/Carl Williamson: Datsun 260Z 10h19m20s
Day five is an official day of rest for the crews. Parc ferme will be opened for service from 0700 until 1300 but time penalties as per the regulations will apply if the car is not returned to parc ferme by 1300.
Day six (Today) includes three stages totaling 219 kilometres which are based south of Nairobi. The opening 106 kilometre stage is fast and open from the start with sweeping bends. There is a big river crossing at 46km which was flooded in 2011 and then moves onto a fast main road until 57km. A fast and twisty track follows until 97km where the road widens until the finish.
The day's second stage is 49 kilometres and has a fast, flowing road surface with several jumps for the first 18km. A black cotton soil follows on from this which is very slippery and wet. This is where several drivers got stuck in 2011.
The day's closing 61 kilometre Meyers Farm 1 test will take the drivers west of Kenya's bustling capital as they end day six north of Nairobi. It is one of the roughest stages on the rally. The section begins with a rocky downhill section which is fast in some places and the road then turns right at 44km and features several jumps along a pipeline road. It is then very rocky until the finish.
What Are Your Thoughts
Share with us what you think about this article