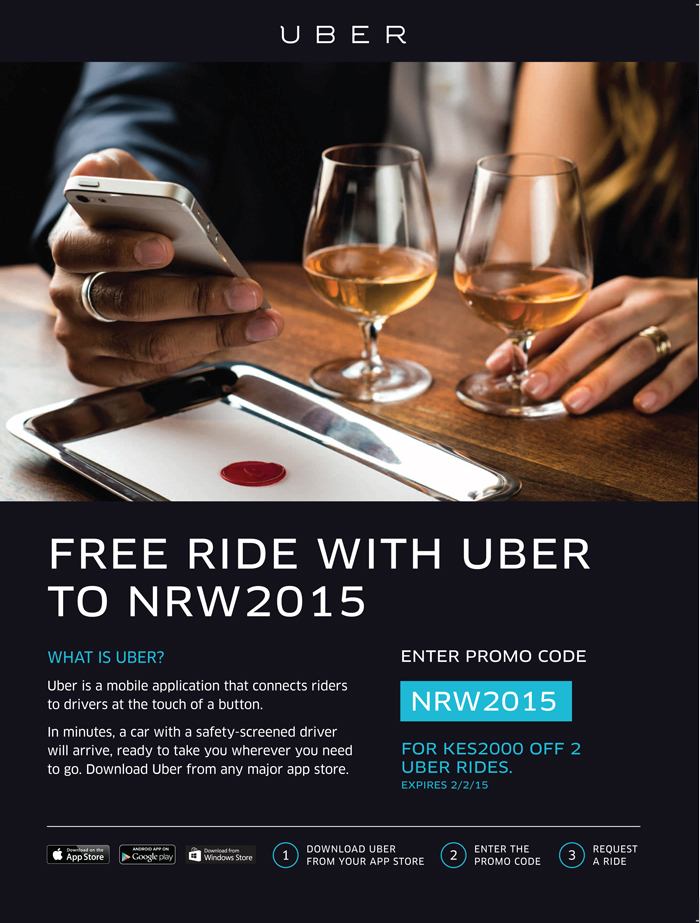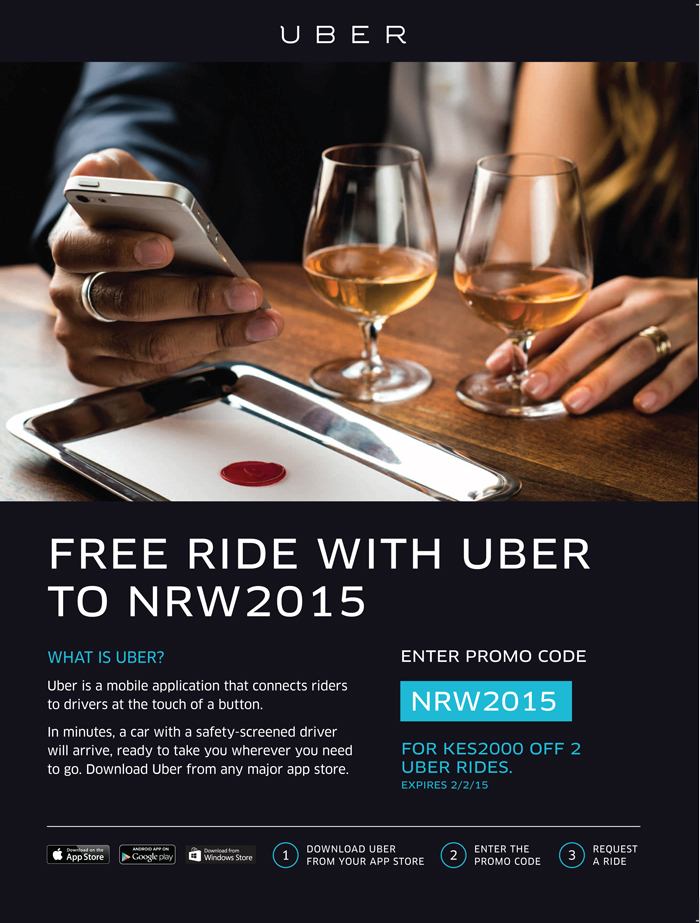 The promotion will offer Uber app users Kshs 2000 off 2 rides during the 10-day restaurant festival between January 22 and February 1, 2015, where diners will enjoy fixed priced menus of Kshs 1500 and Kshs 2000 at over 50 of the city's top restaurants.
Those wishing to take advantage of the promotion will need to do download the Uber app (available on iOS, Android & Windows Phone) and use the NRW2015 promo code.
The partnership was announced at the launch for Nairobi Restaurant Week.
EatOut CEO, Mikul Shah said: "I'm delighted that Uber recognises Restaurant Week as a suitable platform to test their service. Tens of thousand of diners visited participating restaurants in 2014 and we're glad that we have been able to build on the success of last year's event. I'm thankful to all our sponsors and partners for making this happen again. You can't really beat a great meal at a great price plus a free ride to the restaurant – especially as we are offering specials on wine and cocktails during NRW."
This is not the first time EatOut has teamed up with tech giants in Nairobi. In 2012 the company collaborated with Google & Wananchi Group's Zuku to roll out free WiFi hotspots in hundreds of restaurants, and in 2013 introduced the popular Lipa Na Mpesa payment options to hundreds of restaurants with Safaricom and Kopo Kopo.
With approximately 30 cars already registered with Uber to serve Nairobi's commuter market, the company looks to gain ground fast ahead of the official launch of the service set for next month.
Source: http://www.cio.co.ke/news/main-stories/uber-to-launch-in-kenya-with-free-taxi-rides-at-nrw2015 
What Are Your Thoughts
Share with us what you think about this article