Outer Ring upgrade to tame traffic snarl-ups
Updated: November 3, 2013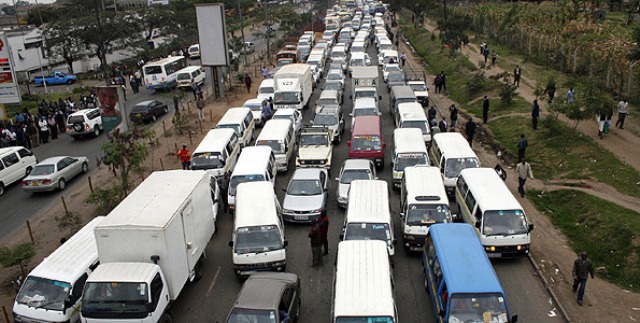 Nairobi residents are getting ready for a road revolution of a magnitude never witnessed before.
According to Nairobi Governor Dr Evans Kidero, the World Bank (WB) has given Sh1.2 billion for the project while the African Development Bank (ADB) has given Sh200 million to fund local rapid road and rail system.
He said out of the Sh2 billion set aside by the county government for road maintenance, some would be used for the Outer Ring Road project.
"We are building Outering Ring road from the General Service Unit (GSU) headquarters to Taj Mall in Embakasi," Mr Kidero said.
Endless gridlocks
The upgrading of the busy road will mark an end of the traffic nightmare and improve security on a road where motorists spend hours on end in gridlocks.
The new dual carriageway will have dedicated bus lanes, a seven-metre wide service road on each side, footpaths and a cycle lane with drains on both sides.
There will be ten pedestrian footbridges and four passenger transfer stations complete with street lighting and landscaping.
A bus lane that can accommodate rapid transit vehicles will be constructed complete with bus stops.
Underpasses
Access roads into Tena, Donholm, Southlands, Jacaranda, Kayole and Umoja estates will have a six-lane underpass while the Jogoo Road roundabout will be replaced with a full four-leaf clover interchange.
After the construction, trucks going into Industrial Area will use an underpass on Lunga Lunga Road.
Bridges across the Mathare, Nairobi and Ngong rivers and two railway bridges, one just before the Kangundo Road junction exit and another near the Taj Mall will be constructed.
The upgrading also entails construction of new grade separated junctions with an underpass at the Juja Road junction and two flyovers at the Kangundo Road junction and Mumias Road junction.
When complete, the road will improve access to Jomo Kenyatta International Airport (JKIA) through Airport North Road to the Thika superhighway.
It will also serve thousands of residents from Eastlands.
Apart from WB and ADB, other sponsors include the Japanese government, Kenya Urban Roads Authority (KURA), Kenya National Highways Authority (KeNHA) and the county government.
Buildings worth billions of shillings are expected to come down when the project kicks off in a few months' time. The demolitions will pave way for the upgrade of the road set to begin in January and be completed in three years.
Road reserve
The demolitions are meant to make available land for the 13-kilometre stretch, starting at GSU headquarters on Thika Road, Allsopps stage and end at the Taj Shopping Mall on the Eastern bypass.
Transport Secretary, Michael Kamau has said anyone who has encroached on the road reserve along the road should expect their buildings to be brought down before construction begins.
Earmarked for demolition are over ten petrol stations on both sides of the road from the Taj Mall junction all the way to Allsopps.
These include National Oil, Gulf Energy, Atam, Total, OilCom, Jogoo Outering filling station and Shell.
High-rise residential buildings within a radius of 30 metres on each side of the existing road will also be affected.
Earmarked
Some buildings targeted near the Eastern bypass, house Bata, Aga Khan Hospital Embakasi branch, Self Service Supermarket and banks such as Equity, CFC Stanbic, Barclays and Cooperative.
Also to be affected are Naivas Jogoo Road, Two M Auto Tech, Webbs Guest House and Kenya Muslim Academy.
Several industries near the road at Baba Dogo like Chandaria Industries, Diversey and Hyperteck Electrical Services Limited.
Residential buildings that were recently built on a controversial piece of land said to belong to GSU in Mathare have also been earmarked for demolition.
All car selling outlets, carpentry, M-Pesa, eating joints, buildings and constructions on the road will be demolished.
Churches have not been spared either and those set to come down include, Hope Restoration Centre, Jet Fighter Ministries, Universal Church of the Kingdom of God and God's Power Church.
Popular drinking joints like Kataro-Paris, Webbs Corner, Harmony, Eaglas and Miharati will also be brought down.
Two slums that house over 10, 000 people near the Juja Road and Outer Ring Road roundabout and at Mathare River will also be scattered.
Many residents expressed happiness, saying the upgrade will improve security around Outer Ring Road roundabout where gangs taking advantage of the traffic jam to rob the people using homemade guns.
Nairobi's traffic jam is estimated to cost Sh50 million daily and Sh18.2 billion annually.
Related posts: