Kia Rio Antenna…and it is even better than we first believed.
Updated: November 4, 2011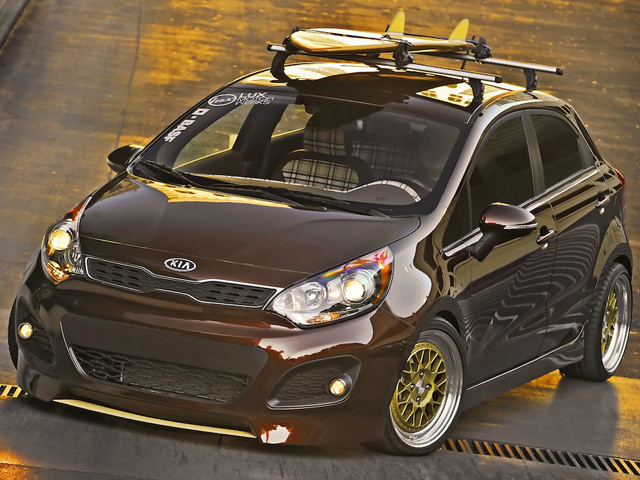 We had previously brought you a rendering of Antenna's take on the Kia Rio 5-Door, called the Retro Surf Rio. We now have actual photos, and we can honestly say that the rendering entirely fail to do the car justice. You might not be a surfer, and retro might not be your thing either, but Antenna's level of commitment to the project and attention to detail has to be admired. Exterior modifications are not extensive, at least not by SEMA standards.
These consist primarily of a body kit, wheels, exhaust, a roof rack with a surfboard and some paint and window tint. The interior though, is where all of the retro can be found. A theme made up of plaid with wood accents gives off a 70′s feel, and the interior storage compartments are packed with surfing-related paraphernalia.The back is packed with other accessories, and while the turntable might be impractical and the iPad playing 70′s arcade games might be a bit hokey, it's still an entertaining concept.