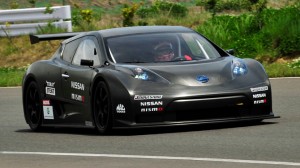 Behold: the first electric vehicle that isn't wholly dull (with the possible exception of the boys' homemade effort). It's the Nismo Leaf. And we want one.
It's got a full carbon-fibre monocoque chassis and body panels, bespoke suspension and a fully driver-adjustable rear wing. The custom shell's also more than a foot - yes, FOOT - lower, 20mm longer, 170mm wider and 40 per cent lighter than the original.
Nissan left most of the standard EV drivechain from the production Leaf, including the 80kw electric motor and 24kWh lithium-ion battery pack. Nismo moved it to the middle of the car where it powers the rear wheels, not the fronts.
It's relatively fast - 0-62mph takes 6.85 seconds and it tops out 93mph. But, as you can hear for yourself, the noise isn't terribly trouser tightening. Oh, and according to official documentation, it only lasts 20 minutes at racing speed. Then takes half-an-hour for the batteries to reach 80 per cent charge. Probably not one for Le Mans, then.
Article source: http://www.topgear.com/uk/car-news/leaf-nismo-2011
What Are Your Thoughts
Share with us what you think about this article