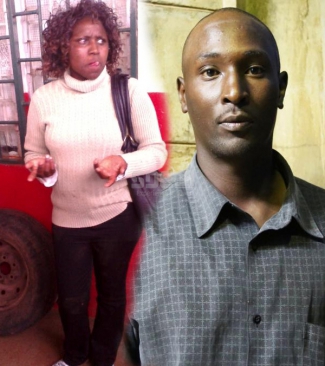 Samson Njuguna, 29, who operates a taxi in Karatina in Nyeri, was reportedly approached by a fair-skinned woman at 5pm on April 9. The woman allegedly asked that she be taken to Chaka market.
After haggling over the fare, she eventually got into the car and headed first to Mathai supermarket to pick a man the woman claimed was her husband, after which the driver pulled into a petrol station .
"When I asked her for money to fuel the car, she told me to use my money, saying she preferred paying the full fare at the end of the journey. From the rear-view mirror, I could see and hear the couple speaking in hushed voices," Njuguna told the court.
He claimed that as they journeyed towards Nyeri, he started growing uneasy as couple reportedly kept on looking at him suspiciously. He alleges that on reaching Marua junction, the woman removed a rope and knife from her handbag.
"My thoughts raced as I pondered my next step. I had to inform someone that I was in grave danger," Njuguna narrated.
He says continued driving while keeping a lookout for the nearest police station. On nearing Kiganjo Police Station, Njuguna added, he made a sudden and unexpected turn towards petrol station. "I flung open the door, jumped out of the car and shouted for help," he told police.
The commotion reprotedly attracted the attention of the public who arrived at the scene and nabbed the woman. Her accomplice however managed to escape.
According to Mutahi Gathondu, who helped apprehended the woman, her handbag contained sachets of a powdery substance believed to be drugs, and a half-full bottle of soda, besides the rope and knife.
Interestingly, a Karatina-based Pastor who also operates a taxi claimed the woman had approached him earlier in the day. Pastor Benson Muya claimed he agreed to take her to Ihwagi market in Karatina. She however left promising to come back with her colleagues but never did. Kiganjo OCS, Chief Inspector Mark Masinde, assured taxi operators in the area that investigations were ongoing.
The woman, identified as Joyce Wangui, and the man she claims to be husband, David Mwangi, were arraigned in a Nyeri court where they denied the charges. They were released on a Sh80,000 bond each.
The case will be heard on May 4.
Source: THE NAIROBIAN
What Are Your Thoughts
Share with us what you think about this article