Kenya could in the coming days be hit by a major diesel shortage with the stocks in the country only enough to cover the next two to three days.
Although the Petroleum ministry admitted that there was a risk of diesel pumps running dry, it, however, assured consumers that the government was working with industry players to resolve the crisis and supply would not be affected.
According to the daily Petroleum Stock Report by the Energy and Petroleum Regulatory Authority (Epra), as of Wednesday, there were 39,567 cubic metres of diesel stored in different depots across the country.
The amount available is against a daily consumption of 11,599 cubic metres, translating to the available stocks being adequate for about three days since Wednesday.
This could mean that if the country does not get any diesel cargo by end of today, there will not be any fuel left by tomorrow.
Oil importer Oryx had been contracted through the Open Tender System (OTS) to import 106,618 cubic metres of diesel on behalf of the industry. The cargo was expected to be delivered between September 3 and 5, but had not been discharged by September 9.
According to the Epra document, the same oil marketer is supposed to deliver another diesel cargo of 106,188 cubic metres whose arrival is slated for between today (Friday) and Sunday.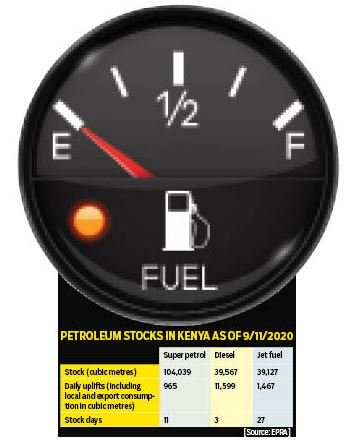 Galana Oil too has a contract to deliver 106,618 cubic metres of diesel, which was also expected to be delivered between September 11 and 13.
Petroleum Principal Secretary Andrew Kamau said the ship carrying the initial cargo had arrived on time.
It, however, could not discharge the diesel through the Kenya Pipeline Company's (KPC) systems because it had a flash point – the temperature at which it ignites – of 60 degrees Celsius, while the pipeline company requires this to be at 66 degrees.
After discussions, he said, industry players agreed that the product be discharged through VTTI, a privately-owned terminal, for distribution in Kenya and neighbouring countries through the road network.
Mr Kamau noted that the Kenyan – and East African – the standard is a flash point of 60 degrees even though KPC requires the temperature to be higher.
"The Kenyan and EAC specification is 60 but for KPC is 66 degrees, which is an operational issue because it uses the pipeline for transportation of other products," he said.
"The matter has now concluded. It will not be pumped to KPC but VTTI.
"Kamau said there were delays because of discussions between the industry and KPC."
There could have been a shortage but this has been averted as the issues have been addressed. As we speak, the ship is in Mombasa discharging. It started discharging yesterday and we expect it to finish tomorrow (Friday)," he said.
"There is another ship that arrives on September 11 and starts discharging on September 12."
Diesel is a critical fuel across different sectors, particularly manufacturing and transport, and shortages could affect vital services and possibly the price of many consumer goods.
This is seen in the higher consumption of diesel when compared to other fuels. According to the Epra chart, the daily consumption of super petrol in the country stood at 9,650 cubic metres, compared the 11,599 cubic metres of diesel.
As of Wednesday, there was enough super petrol stock to last 11 days at 104,000 cubic metres while stocks for jet fuel could last about a month.
The usage of diesel, which among other indicators can be taken as a measure of how an economy is performing, declined 11 per cent over the first half of 2020.
This was due to the impact of Covid-19 following the measures put in place to contain the spread of the disease. Consumption started going up in June following the relaxing of the measures.
Consumption of super petrol, mostly used by private motorists, declined 10 per cent to 625,000 tonnes between January and June this year compared to 700,000 tonnes over a similar period last year.
The shortage that the Petroleum ministry says has been averted comes days before industry regulator Epra publishes new retail prices for the three fuels.
 Epra will on Monday announce prices that will be in place for a month even as crude oil prices continue to rise.
Earlier this month, prices reached $45 (Sh4,860) per barrel, last seen in March when they were on a steep descend following drop in demand among major consumers as well as a spat between Saudi Arabia and Russia, both major oil producers, on how to handle the sharp decline in prices.
SOURCE: standardmedia.co.ke

What Are Your Thoughts
Share with us what you think about this article