With each passing moment, life gets harder. Our local universities produce many graduates annually.
Sadly, majority remain unemployed; the four to seven years in the university, almost wasted. Most employers seek to employ people with about three years working experience. Now, having graduated recently, where do they expect me to have gathered such experience? One might argue that tertiary education broadens your mind so, why do you want to be bossed around when you can be self-employed? It is easier said than done.​
Majority of Kenya's population is the youth; vibrant, brilliant and full of unexploited talents. In order for Vision 2030 to be actualized, the government and the society generally, should heavily invest on them.See Also: Five Kenyan students emerge top innovators in Africa with their anti-FGM app
Annually, JKUAT organizes 'The JKUAT Tech Expo.' This annual event was incepted in the year 2010. It gives students pursuing various courses a chance to explore their creativity and showcase their innovations in front of a panel of judges and potential investors. This year marked the 9th Tech Expo.
The event took place from the 23rd to the 24th of January and was graced by Narendra Raval, the founder of Devki Group of Companies which specializes in manufacturing steel products, roofing sheets and cement.
JKUAT student Mercy Kiptui showcases Myduka app innovation during Tech Expo at Jomo Kenyatta University of Agriculture and Technology in Thika. [David Njaaga, Standard]
The innovations were in line with this year's theme, 'Changing lives through innovation. 'Some of these ingenious innovations were:
Lainisha ma3, a project aimed at streamlining the matatu sector so as to provide comfort and safety to passengers by ensuring that matatus are not overloaded and that, only authorized matatu SACCO drivers can transport passengers. The Lainisha ma3 system ensures that passengers have their seatbelts on all the time otherwise, the engine stops. In case a passenger has not buckled his seatbelt, an annoying, loud buzzer notifies him leaving him with no other option but to tighten his seatbelt.
You might be wondering what happens when a passenger decides to alight in the course of the journey. Well upon unbuckling his seatbelt, the matatu gradually reduces its speed on its own thus communicating to the driver to pull over the nearest bus-stop. This system also prevents passengers from standing along the aisle throughout the course of their journey by using a technology analogous to that of your remote controller to communicate to the engine.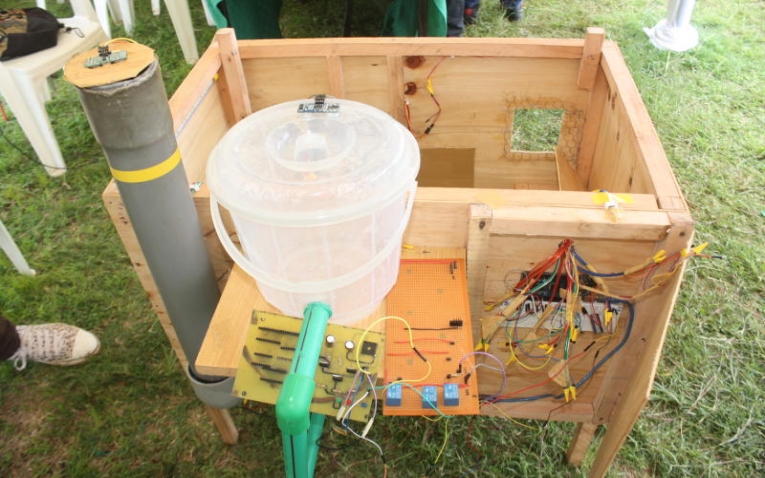 An automated Chicken Coop innovation during Tech Expo at Jomo Kenyatta University of Agriculture and Technology in Thika. [David Njaaga, Standard]

This also prevents passengers from sitting on the so called 'sambaza' (a small wooden bridge created by putting in between seats on either side of the aisle). As for ensuring that only authorized matatu drivers can transport the passengers, it uses two identification systems; swiping an identification card so as to cough up the engine and using fingerprint recognition in order to access the ignition switch.
Shopping during month-ends with the long queues at the cashiers' tills and overcrowded supermarkets can actually result to one having a migraine. Imagine being on a long queue with only two products on your trolley. Heartbreaking, right? SETRO (Smart Electronic Trolley) is a project aimed at ensuring the shopper gets a quick yet convenient shopping experience at the same time increasing the supermarket's profit margin by cutting its wedge bill.
The system is incorporated in a trolley. It works by using image recognition and barcode reading to detect products placed in the trolley and gives you vital information such as the product's expiry date and its price. As the shopper keeps on adding goods onto the trolley, it keeps track of the amount due and thus it is useful in budgeting. What's even more amazing about SETRO, is that one can actually make payments via MPESA or using swipe-cards after which it generates an E-receipt.
"45 out of a 1000 infants die annually out of communicable diseases,'' This is according to the statistics collected by Mama Fair. Mama Fair is a brilliant webapp that was innovated by some IT students with the aim of reducing infant mortality rate. It has three modules which include: prenatal information, immunization and doctors' services. Prenatal information aims at providing prenatal care to expectant women by determining the scope and frequency of prenatal screening. Digital files containing records of the mother's medical history, gynecological examinations, laboratory diagnostic analysis and regular ultrasound screening are generated and can be accessed through Mama Fair.
The Immunization module is the main module. It contains the records of the infant's immunization schedule and thus doctors can easily update immunization information online. Medical Practitioners are the ones authorized to change information in these modules however, patients can still access their medical information through Mama Fair. Through the use of an SMS or a notification from the webapp, mothers are reminded to take their children for immunization.
The Doctors' services module, enables the patients to access the contact information of a variety of doctors in different specialties; pediatrics, obstetrics, diagnostic radiology, neurology, etc. This way, patients are able to consult with doctors online.
Visual impairment can limit one's ability to perform daily tasks, overall affecting the quality of life and one's ability to interact with his/her environment. The Walking Buddy project is a concoction of technology and compassion whose main goal is to assist the visually-disabled amongst us.
It is designed to help the blind navigate easily using an automated walking-stick by linking it to a smartphone to give appropriate audio and tactile feedback. This will undoubtedly make the world a better place for our blind family members, neighbors and friends.
The event came to an end with the Walking Buddy and Safari Wiz being crowned the winners of this highly contested Expo. It would be sad if the government let such fresh, thoughtful and brilliant inventions remain undeveloped.

MUMBUA WAMBUA IS A SECOND YEAR PHARMACY STUDENT AT JKUAT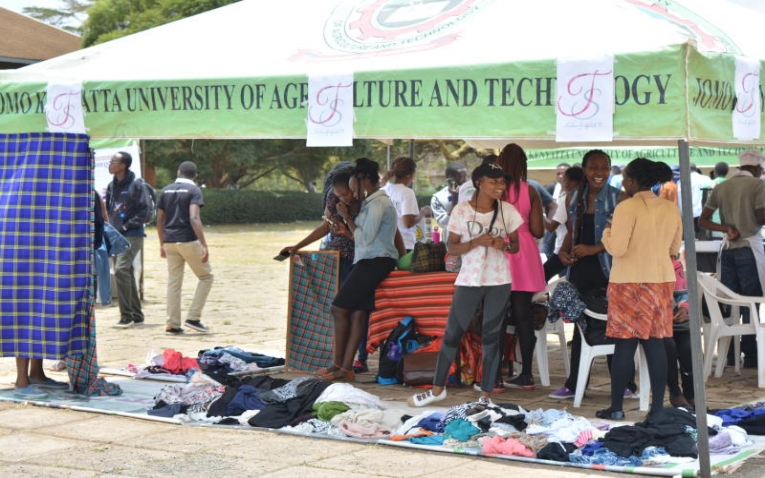 SOURCE: standardmedia.co.ke
What Are Your Thoughts
Share with us what you think about this article