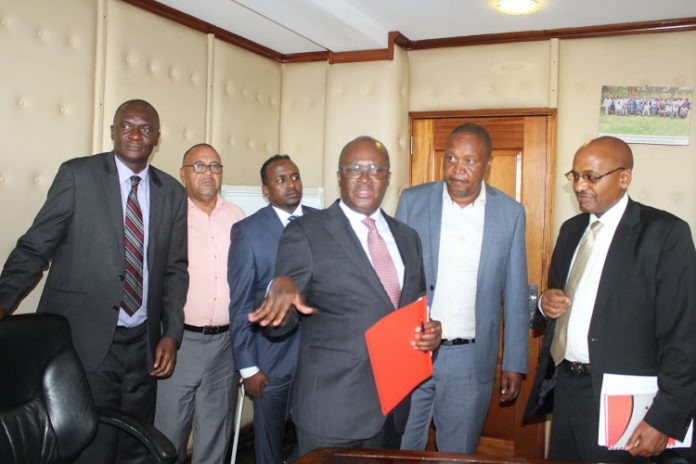 The Matatu sector has yet to put in place measures to deal with coronavirus should there be an outbreak.
Sector players say they have taken precautions even though that is not evident. They are, however, well aware that the chaotic state of public transport is not only risky but also expensive, hence would result in disastrous consequences should the virus strike.
No case has been reported in Kenya even though there has been a scare following investigations into 23 alerts involving 31 suspected cases that all tested negative.
Two of the cases investigated recently were in Nairobi. Millions of residents use public transport and have always raised the issue of congestion and wanting hygiene.
At a meeting on Tuesday, sector players were urged to put in place preventive measures.
"Prevention is better than cure. We are partnering with the Transport and Health ministries as matatu has contact with millions of people every day," Matatu Owners Association chairman Simon Kimutai told the Star on the phone.
Kimutai, who attended the meeting at Transport Ministry offices, said the Health ministry has printed flyers with messages on the virus.
The flyers will be made available in matatus. That move, however, is not enough.
Across the world, countries have stepped up vigilance. In Rwanda, for instance, passengers at the Kigali Bus Park have to wash their hands before getting onto buses. Just like Kenya, Rwanda has not recorded any case. "Sanitation and a clean environment are key. We urged the Health ministry to ensure there's enough water near public toilets," Kimutai said.
Transport CS James Macharia and Health director-general Patrick Amoth attended the consultative forum. Also present was the SGR leadership. Kimutai said they were taken through how the dreaded virus spreads.
For his part, Macharia said the matatu and the SGR play a critical role in transporting the masses. The SGR has, for instance, transported over 4.2 million passengers.
According to the WHO, there were 118,223 confirmed cases and 4,291 deaths. At least 114 countries have been affected. As of March 10, 33 African countries had reported suspected cases under probe. This was according to the Africa Union.
In Kenya, the government has banned meetings, conferences and events of international nature. Health CS Mutahi Kagwe said the ban takes effect immediately and will last 30 days. He made the announcement on March 6 when launching the Mbagathi Hospital Infectious Diseases Unit.
At least two other major international conferences set for Nairobi have been affected. They are the Next Einstein Forum Global Gathering 2020 that was to be held from March 10 to 13, and the 15th H3 Africa Consortium meeting that was scheduled for March 8 to 13.
The latter empowers African researchers to be competitive in genomic sciences and establishes and nurtures effective collaboration on the continent.
Kagwe said other measures have been put in place through heightened surveillance systems at all points of entry, health facilities and communities across the country.
Macharia warned against discrimination of foreign nationals, saying the problem is global. Most companies that currently undertake mega infrastructure projects are from China, the epicentre of the virus.

SOURCE: the-star.co.ke

What Are Your Thoughts
Share with us what you think about this article