Kenyans are sceptical people. But beneath their amusement and scepticism lay a distant glimmer of hope that the reign of a chaotic public transport could come to an end when a lane was dedicated for high-capacity express buses on the Thika Superhighway two years ago.

The naysayers were convinced it was the usual 'tutatenda' government PR machine at work. But when Transport CS James Macharia demarcated the lane, they started watching that space.
Macharia marked the inner lane red, signifying the first step to bringing order through Bus Rapid Transit (BRT), a worldwide concept designed to improve capacity and reliability in congested cities. The anticipation was that BRT would increase transport reliability, reduce travel time, cut air pollution and generally improve the quality of life for commuters.
 Since then, the project has experienced false starts as commuters continue to suffer. When not stuck in endless jams; travellers are at the mercy of rowdy matatu crew who increase the fare at will, and the pickpockets and thugs who relieve sleeping dogs off their mobile phones and computers.
But two years later, and without tangible progress, city residents are questioning whether the authorities are really keen on the ambitious project or if this was after all just a matter of cutting the ribbon for press cameras.
An attempt to introduce buses from the National Youth Service (NYS) quickly flopped after a few weeks of experimenting due to frequent breakdowns.
Politics also came into play, too, with officials at City Hall claiming the project was being sabotaged by matatu owners, middlemen and vehicle manufacturers who were afraid that high capacity buses would drive them out of business.
But players in the sector believe it was a hurried project, rolled out without a firm foundation. Matatu Welfare Association (MWA) and Matatu Owners Association (MOA) officials say when the lane for high-capacity buses was marked, there was no infrastructure for smooth operations.
An ideal BRT should have certain features, like runways, stations and vehicles. Apart from the single lane created along Thika Superhighway, there were no stations and vehicles to support the new transport system.
"BRT is driven by infrastructure; there was a misconception that it is all about buses. It was a case of putting the cart before the horse," says MOA chairman Simon Kimutai.
His MWA counterpart Dickson Mbugua says an implementation strategy is yet to be completed.
"We realised that BRT wouldn't be actualised without having a holistic plan. It is with this in mind that a task force was formed to come up with a strategic plan, which would have been completed by April, were it not for Covid-19," says Mbugua.
Some of the issues being looked into by the task force include infrastructure, the role of stakeholders, the formula for phasing out the 14-seater matatus, and compensation for those who will exit the matatu business.
But contrary to government bureaucrats' position that it is a matter of time before BRT becomes operational, insights by Kimutai and Mbugua paint a different picture – it is work still on paper.
"The earliest we can talk about BRT taking off is probably 2022," says Mbugua.
This means city commuters should stop dreaming of a formalised transport system by next year as recently promised by Urban Development PS Charles Hinga after Stecol Corporation, a Chinese firm, secured a Sh5.6 billion deal to start construction of special lanes along Thika Superhighway to Kenyatta National Hospital (KNH) through the CBD.
Sections of the highway will be remodelled to accommodate support facilities such as boarding stations and footbridges, in a face-lifting exercise expected to take eight months.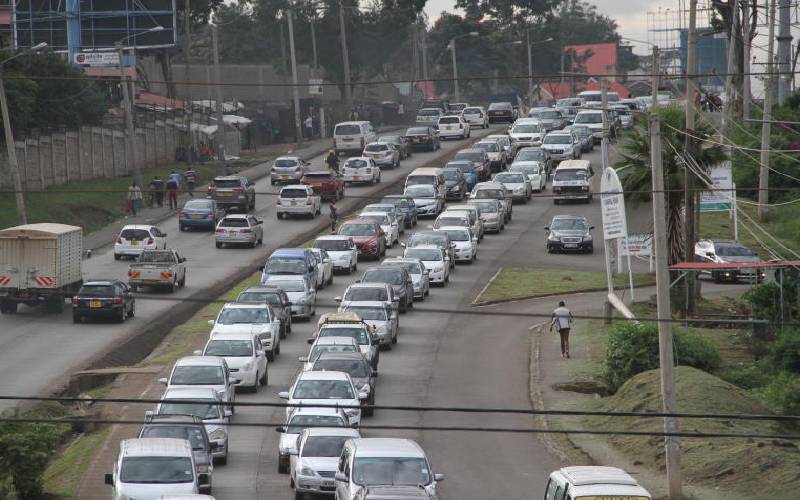 A park-and-ride facility is also planned for construction at Kasarani to allow commuters heading to the city centre to leave their vehicles and take BRT transport for the remainder of the journey.
According to Hinga, the two innermost lanes will be dedicated to high-capacity buses to ply Corridor Two or Line Two. There shall be boarding ramps to ease access to the buses, which will be run by private operators but regulated by Nairobi Metropolitan Area Transport Authority (NaMATA).
Private operators will comprise MOA, MWA, Association of Buses Operators of Kenya (ABOK), Association of Matatu Operators (AMO), Mount Kenya Matatu Owners Association (MKMOA) and Matatu Transport Vehicle Association (MTVA).
Urban planner Mairura Omwenga says the project is running behind schedule and that Nairobi at the moment does not deserve a disjointed transport system.
"Nairobi is a huge metropolis. There are cities with less than one million people relying on BRT, in fact, we should be having light rails, trams and subways," says the university lecturer.
The current state, according to Omwenga who is also chairman of Town and County Planners Association of Kenya (TCPAK), has led to unhealthy competition among low-capacity matatu owners/operators who normally break rules in their quest for profit.
"The BRT is a more organised system. There are high chances that private motorists will seamless adapt to this model, leading to a reduction of cars on our roads. Equally, travel times will decrease, there shall be less pollution, it will be cheaper and therefore cost beneficial to everyone," says Omwenga.
The World Bank estimates that city residents on average spend an hour to travel to work and another 60 minutes commuting back home due to traffic congestion.
SOURCE: standardmedia.co.ke

What Are Your Thoughts
Share with us what you think about this article