Police in Garissa county on Friday rounded up residents not wearing masks.
In Mombasa, police officers arrested more who were said to be violating Covid-19 rules.
Those arrested were taken to Mombasa court to face charges.
Residents were arrested for not wearing masks or wearing them wrongly.
The raids come after Inspector General of Police Hillary Mutyambai ordered the police to implement the rules set aside by the Health ministry.
"All police officers across the country have been instructed to enforce the curfew orders from 10 pm to 4 am without fear or favour with strict adherence to the standard procedures," the statement read in part.
Mutyambai also ordered that motorists found on the road past curfew hours will lose their licenses while those flouting the rules risk parting with a Sh20,000 fine..
The raid comes as Kenya's coronavirus infection cases continue to rise, with 21 people reportedly succumbing on Thursday.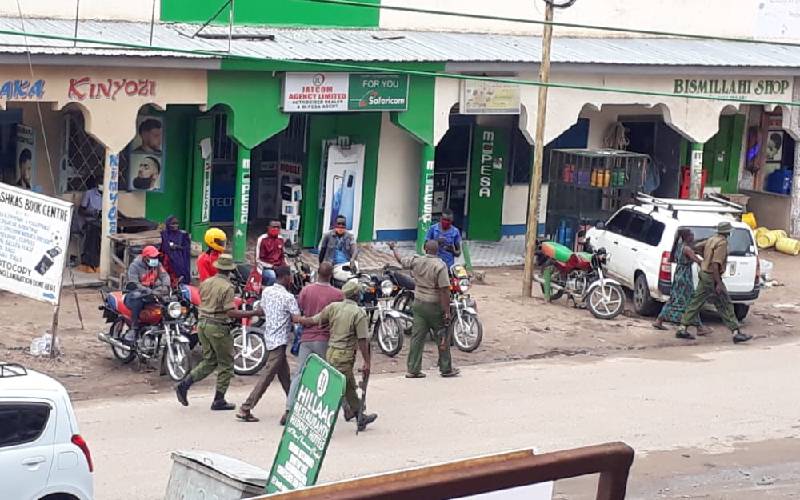 At the same time, the Kenya Medical Association president Dr Were Onyino earlier this week said since the reopening of the economy in August 2020 Kenya has witnessed a steady increase in Covid-19 cases and fatalities and positivity rate.
To date 59,595 confirmed cases have been reported with 1,072 Kenyans succumbing to the disease.
In a statement, Dr Onyino said a sharp rise of Covid-19 cases has been noted in the counties with a notable spike in infections in the Western region.

But using the police to enfore Covid rules may bring back concerns on police brutality and excess force as witnessed at the beginning of the year.
In March, shortly after the first coronavirus case was confirmed in Kenya, police were criticised for injuring residents in the name of enforcing the law.
Leaders across the political divide condemned the brutality meted out on Kenyans by the police enforcing a government's curfew to curb Covid-19 spread.
Led by Senate Majority Leader Kipchumba Murkomen, the leaders at the time said the action of the police as was witnessed defeated the very purpose of the curfew.

Police and commuters clashed at the Likoni ferry in Mombasa, a scenario occasioned by overcrowding as residents rushed to beat the curfew deadline.
The situation was not different in Kisumu and Eldoret towns as police teargassed Kenyans for flouting the curfew rules.

SOURCE: https://www.standardmedia.co.ke/health/article/2001392904/police-round-up-residents-not-wearing-masks-in-mombasa-garissa

What Are Your Thoughts
Share with us what you think about this article