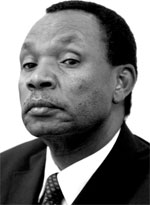 An anti-corruption court on Wednesday heard how former Industrialisation minister Henry Kosgey waived overage vehicles.
A prosecution witness in the fraud case against the former minister said he was aware Kosgey waived over 500 motor vehicles between January and September 2010.
Kioko Mutisya however said he knew if Kosgey personally benefited from the exemptions.
Mutisya, who was then Kenya Bureau of Standards acting MD told court that despite the waivers, all applicants were directed to pay Sh15,000 for every vehicle.
According to him, vehicles would only be inspected and allowed for use upon the payment.
The witness further confirmed that the exemptions were given before June 21 2010.
Kosgei is facing abuse of office charges. He is accused of using his office to exempt importation of hundreds of cars into the country against the eight-year age limit for used vehicles.
While testifying yesterday Mustisya said Kosgey did not at anytime seek advice from the council.
Another witness had told court previously that Kosgey was obliged by the law to seek advice of the National Standard Council that is that is mandated to guide the Kebs on quality and standards to be maintained.
Yesterday Mutisya produced letters signed by Kosgey exempting waivers to Al Pacific Limited, Bangal Cars and Pankens International Limited for vehicles more than eight years old.
The witnesses produced other letters signed by the minister allowing Yuasa International Limited to import aged vehicles.
Also produced in court as evidence was a letter by PS Dr Kibicho Karanja instructing Kebs to consult him before accepting any request.
Mutisya told court Kebs had received complains from KRA and other stake holders.
"They were complaining that there were many exemptions. I informed PS and we discussed the matter with him," he said.
"Before any waiver is granted, you must bring letter to my office to confirm whether it's genuine we are suspecting fraud in the whole exercise and Kacc is investigating the issue," the PS letter stated.
The court also heard that Kebs was directed in march to put an advert on newspapers to tell people no more request would be accepted. Hearing continues.
What Are Your Thoughts
Share with us what you think about this article