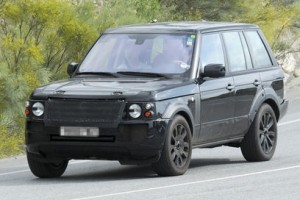 The new Range Rover is coming – and it's packed with more technology than ever to make it lighter, roomier and more efficient.
Spied undergoing testing in Europe, this prototype uses a modified version of the outgoing car's body, with tweaked wheelarches hiding wider tracks, along with a modified front end allowing engineers to assess cooling of the car's revised engines.
Under the skin is a new aluminium chassis – using lessons learned from Jaguar'sXJ– with a slighlty longer wheelbase, giving more rear legroom. The finished car will get an aluminium body shell, whch could even use composite panels, and together with a host of advanced materials used throughout, the new Range Rover will shed an incredible 500kg.
That will bring its overall weight down to just over 2,000kg. Together with new TDV8 and TDV6 stop-start diesel engines hooked up to Range Rover's eight-speed ZF automatic gearbox, the big 4×4 should be able to return more than 40mpg and dip under the 200g/km CO2 barrier. Of course, there will still be the traditional offering of large V8 petrol engines too.
In terms of styling, expect Gerry McGovern and his team of designers to lower the Range Rover's roofline slightly and toughen up the exterior with daytime running lights and more muscular arches. But it'll be a case of evolution not revolution with trademark design cues such as the upright front end and floating glass house remaining intact.
Expect an even more luxurious cabin while the current car's Terrain Response system will be modified to cement the Range Rover's position as the world's best off-roader. The Range Rover will make an appearance at a major motor show next year, while a hybrid version is expected at some point in the future too.
For an alternative review of the latestLand Rover Range Rovervisit our sister sitecarbuyer.co.uk
Read more:http://www.autoexpress.co.uk/news/autoexpressnews/268690/new_range_rover_spied.html#ixzz1Ogw2tLus
What Are Your Thoughts
Share with us what you think about this article