Crackdown on car theft syndicate.
Updated: February 20, 2012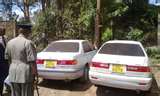 Police have cracked a crime syndicate that involves stealing luxury cars from automobile bazaars in Nairobi and smuggling them out of the country.
Seven suspects in Kenya and Tanzania have been arrested and some of the stolen vehicles recovered. In the latest incident, four vehicles were driven away at midnight after six gangsters broke into a bazaar at Ridgeways, Nairobi on Monday. Four other vehicles were stolen from another auto dealer in Lavington a week earlier, according to police.
The vehicles that were stolen include a Prado Land Cruiser, a Toyota Harrier, a Nissan Navara and a Toyota Lexus at Thika. Vehicles that were stolen from the Lavington bazaar have not been found. "We will bring back the vehicles from Tanzania and follow the due process so that the suspects are brought back to face the law," Special Crime Prevention Unit Commander John Koki said.
The car thieves usually approach watchmen and offer them hundreds of thousands of shillings to aid them in the crime. The vehicles are usually sold to unsuspecting buyers in foreign countries.