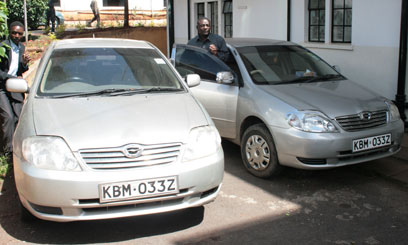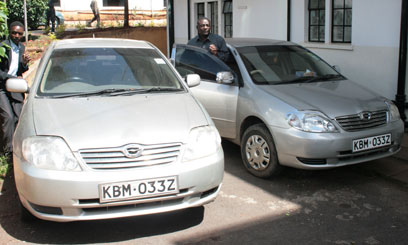 Police are investigating two officials at the Kenya Revenue Authority (KRA) who have been colluding with criminals to fabricate double registration for motor vehicles.
This follows the recovery of two vehicles with identical registration numbers which have logbooks issued by the Registrar of Motor Vehicles at the KRA headquarters.
"We have been following these cases and our investigation has now revealed two officials are involved, we have their details and we are going to get them," Flying Squad chief Munga Nyale said.
One of the vehicles with registration number KBM 033Z, a Toyota NZE was seized in Nakuru while another one with a similar registration number was found in Nairobi.
Nyale said they started looking for the car in Nakuru after being told there was a car with similar plates in Nairobi registered to a pharmaceutical company.
The one in Nakuru is registered to an individual who also has a logbook but police investigations have shown the car was stolen.
"The person who has it has said it was sold to him and he has been able to give us the details and we got the person," Nyale said.
Police investigations have shown that the documents used to register the stolen vehicle were nicked during a transfer process for the genuine vehicle.
"The pharmaceutical company does not have a problem. In fact, we are releasing their vehicle, but this other one is not genuine," he said.
The man found to have been involved in tampering with the documents in conjunction with KRA officials was charged on Thursday afternoon at the Milimani Law courts.
"He is a dangerous person because we have established he was even involved in the other incident last week," Nyale said.
Police say cases of motor vehicle theft are on the increase after 14 taxi drivers reported losing their vehicles this month alone.
Copyright © 2012 Capital FM.
What Are Your Thoughts
Share with us what you think about this article